There are dozens of companies online that can help you incorporate your business as a C Corp, S Corp or a LLC. But there are very few companies that provide comprehensive legal services that include Contracts, Real Estate(Landlord & Tenant Documents) and Estate and Living Trust Services. Furthermore, Rocket Lawyer offers "Ask My Lawyer" document review service from a state licensed attorney.
Below we have provided Comprehensive Rocket Lawyer Review that will help you decide if Rocket Lawyer Service is the right fit for your needs.

We used the following 3 factors to Evaluate & Do A Comprehensive Rocket Lawyer Review
Product & Service Offering
Pricing
Customer Service (Before, During and After Order )
Rocket Lawyer Review: Product & Service Offering
We found Rocket Lawyer Service offerings to be comprehensive and useful for most customers. We Rate Rocket Lawyer Product & Service Offering 5 Stars
Rocket Lawyer has a substantially larger document library as compared to many other services including (Legal Zoom) When you join Rocket Lawyer you get access to all of the documents, including premium documents. Per Rocket Lawyer they have over 1000 documents that are available free of cost.
Rocket Lawyer offers 5 Main Services
Entity Formation & Contracts

Rocket Lawyer allows you to form for profit or non profit entities. All the required forms and services are available such as Form a Corporation, Form a LLC or Form a Non Profit. You an also draft hundreds of business contracts related to Business Operation, Employment & HR, Service Contracts & Intellectual property.

Real Estate

Rocket Lawyer offers dozens of contracts and documents pertaining to Landlord, Home Ownership & Tenants. These include Leases, Eviction notices and more.

Family & Personal

Family & personal documents offered by Rocket Lawyer covers the following areas: Estate Planning, Health and Medical, Family Matters(Including Divorce), Personal Finance, Personal Property & General Legal Matters

Group Legal Benefits

These plans are sold to employers who then make them available to their employees free of cost. This can be a nice benefit for the employees who can get legal documents and legal help from an attorney for various legal matters that may effect their lives.

Here is a video from Rocket Lawyer that help explain these benefits in detail.

Ask a Lawyer
Ask a Lawyer Service offers answers to any legal questions and contracts & document review.
This is important in case you need to make any changes to the standard document offered by Rocket Lawyer.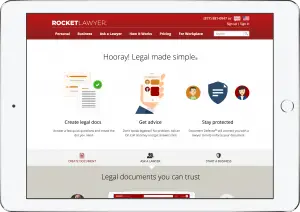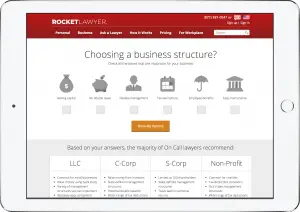 Rocket Lawyer Review: Cost
Based on our extensive research we found that Rocket Lawyer pricing is very fair and competitive. From Outside other services such as Legal Zoom may seem less costly, but with hidden costs they add up. Based on Our Extensive Review We Rate Rocket Lawyer Cost 5 Stars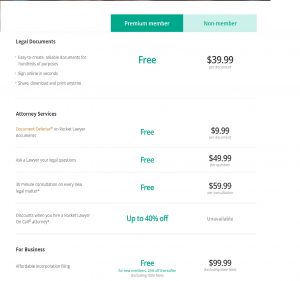 Quick Comparison & Pricing Examples:
Rocket Lawyer
Rocket Lawyer EIN $60
Registered Agents $149.99.
Operating Agreement: $39.99
Membership: $39.99/month Includes most important documents
Rocket Lawyer Offers: Free Incorporation service with purchase of a membership Or Free Inc with purchase of an Registered Agent.
Legal Zoom
Legal Zoom EIN Pricing: $79
Legal Zoom Registered Agent: $249
Legal Zoom Operating Agreement $99
Membership: $39-$43/month ($41 Average) pay extra for most important documents
Rocket Lawyer Review: Customer Service (Before, During & After Ordering)
We tested this service expensively by calling, Using online Chat, Rocket Lawyer App and using their new E-Signing Service. Based on us reviewing these services We Rate This Services 5 Stars
Call Support:
We called Both Companies Multiple times and found Rocket Lawyer waiting time was less than 5 minutes on average as compared to 25 to 30 minutes on other online websites. Rocket Lawyer Phone number is (877) 881-0947 and is available 6am to 6pm PT.
Online Chat Support
Online Chat support is available and is extremely efficient. Service is prompt and typically accessible in about 5-6 minutes.
Rocket Lawyer App
Rocket Lawyer offers App that makes it very convenient to access documents on the go. You can use the app to create, share, sign and access documents very easily.
E-Signing
Rocket Lawyer's Sign Confidently™ allows you to send receive and sign documents online. This is one of the best features of Rocket Lawyer making it extremely easy to use and super easy to be organized.
Free Trial
Rocket Lawyer offers free 7 Day trial for you to try out the service before you purchase it. They do ask for your credit card, so make sure if you are not happy with service or don't like the contracts, make sure you cancel within 7 days to avoid any monthly charges.
Reviews by Other Review Sites: 
Trust Pilot Review of Rocket Lawyer 4.7/5 See More Details
BBB Review of Rocket Lawyer 4.57/5 See More Details
Consumer Affairs Review of Rocket Lawyer 4.9/5 Details
Conclusion
Based on us using various Rocket Lawyer Products personally, from actual business clients and reading hundreds of reviews on Google, Trust Pilot, Yelp and other places, we believe Rocket Lawyer is worth every Penny.
If you are small business owner or a landlord or real estate owner, using attorney to draft even one document will cost you more than the yearly fee of Rocket Lawyer.
Learn More
S Corporation: Ultimate Business & Tax Guide