Are you confused about the difference between mortgage brokers vs. loan officers? It might seem like they both do the same thing, but that's not the case.
Imagine this: you are interested in purchasing a home in the current market, but circumstances look dire. Not only are home prices exorbitant, but inflation is rising as well. You wish you had someone who could help you circumnavigate this unusual home-buying market, but you don't know where to turn.
Does this sound like you? Well, if it is, then you will want to avail yourself of the services of a mortgage broker. Keep reading to find out why.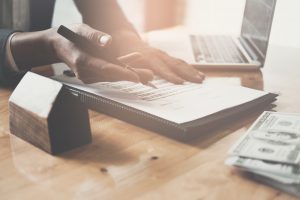 What Does a Loan Officer Do?
Let's begin with the basics. If you visit your local financial institution or a credit union searching for a mortgage, then you will probably speak with a loan officer. These individuals are affiliated with that particular financial institution and are there to help you find a mortgage (and other kinds of loans). They can also help you refinance your home.
When you visit the bank, the loan officer will first ask you to fill out a loan application form. Then they will submit this form to their underwriting department. The loan officer acts as the financial intermediary between you and the underwriter, but they try their hardest to get your loan approved (to get to closing, so to speak).
The primary thing to remember with a loan officer is that they ONLY find mortgages or loans from their affiliated institution, so your selection is much smaller. Of course, many people like the simplicity of having all their loans, mortgages, accounts, and investments in one place.
If you feel the same, then you will want to go to your financial institution's loan officer (your bank branch will be able to guide you to the right person), and they will be able to find a loan for you. That's one reason why the biggest banks in your state are so eager to get young people started with them because they know once they are in, they are in for life.
But maybe you are of the opposite mindset. You don't care where your mortgage sits, as long as you get the BEST possible rate ever. That's where you would seek out a mortgage broker.
What Does a Mortgage Broker Do?
Let's look at a mortgage broker's role in the mortgage process. A mortgage broker (which can be an individual or a company) is an independent entity, not affiliated with any particular financial institution.
When you visit a mortgage broker, you are essentially asking them to shop around for mortgages on your behalf. You don't want the hassle of going to half a dozen or more financial institutions and making a loan application at each one, separately. It would take too much of your precious time.
That's why you would engage the services of a mortgage broker, who would go out to several mortgage lenders (which could be banks or other financial institutions like credit unions) on your behalf. They would then find the best available deal on mortgages for you, depending on your financial profile.
It's important to understand that mortgage brokers do not approve loans for you, and they are not the ones lending you money. They are merely the financial intermediary between you and the lender.
The mortgage broker will present you with a shortlist of mortgages that are suitable for you, and once you decide which one to proceed with, they will do all the paperwork for you. That should relieve a lot of burden from your weary shoulders.
Advantages of Hiring a Mortgage Broker
The huge advantage in hiring a mortgage broker to stand in for you is that they have good relationships and connections at many lending companies. They also have a lot of experience in finding suitable mortgages for a wide variety of people from different backgrounds and financial statuses.
Some mortgage brokers might even have connections with smaller lending companies that don't deal with consumers directly.
IF you have a financial profile that's less than ideal, then you can use the services of a mortgage broker to get loans at better rates than you would get on your own. They can be your advocate, and they can fight on your behalf to get you a better deal.
A mortgage broker can also help you with another important item. They can tell you exactly what parts of your finances you should work upon or improve, so you can get a better mortgage deal. This is especially important if you have a low credit score and a bit of time before you need a mortgage.
Disadvantages of Hiring a Mortgage Broker
Everything has two sides to it, so let's look at some cons to hiring a mortgage broker.
Whilst reading the sections above about mortgage brokers, you might have been wondering how exactly a mortgage broker gets paid. Good question!
A mortgage broker, in most cases, gets commissions directly from the lending company. In one way, that's a good deal for you because you don't have to worry about paying the mortgage broker.
BUT, this is also a negative because a mortgage broker can steer you towards lending companies that give them the biggest commissions, even if that's not the best deal for you. Whoops! That doesn't sound like an ideal scenario at all.
Another thing to watch out for is that some mortgage brokers will not get commissions from the lender but will charge you a fee for their service. This is good because that means they will not be swayed by higher commission rates. But it's an additional expense upon you that has to be accounted for and added to the total mortgage amount.
Finally, you need to note that NOT ALL lenders deal with mortgage brokers. Thus, you might be missing out on some great loan options.
That's why it's always good to do your homework – go out and do some research on your own and use the mortgage broker as a solid add-on.
Mortgage Brokers vs Loan Officers – Which One Should You Choose
With all this information at hand, you might be wondering which entity you should go for when trying to get a mortgage.
There are many reasons why you would go for one or the other option, but the most important reason you would choose a loan officer is for convenience's sake.
If you have ALL of your products located at one financial institution, having a mortgage added into the mix will make it easier for you to pay your mortgage, check your mortgage statement, and more.
In addition, because you are a valuable customer for the financial institution, they are more likely to give you a better deal to prevent you from finding a mortgage elsewhere. You can use this to your advantage and push for a better rate.
But if you are on a tight budget and seeking the best loan option out there for you, then a mortgage broker is absolutely the way to go. Make sure to find a mortgage broker through recommendations by friends, relatives, or other trusted individuals. There are dozens of mortgage brokers out there, so you will want to choose the best one for you.
Check their credentials, experience, and qualifications to ensure they seem trustworthy. They must also be licensed. Ask them many questions to see if they seem knowledgeable and whether they have excellent customer service.
You can also check the Better Business Bureau to see if any complaints have been lodged against them.
Shop Around for Loans and Mortgages
It would be a mistake on your part not to shop around when it comes to loans because you could save thousands of dollars over the lifetime of your mortgage by getting a better interest rate and better terms of repayment.
The best advice here would be to seek quotes from more than one broker, more than one banker, and several loan officers. Ideally, you will want to collect 3-5 estimates from several different sources. Once you have these estimates, you can compare all of them to find the best one for you.
This might seem like a bit of work on your part, BUT it can mean a huge difference in the amount of time you are stuck with the loan or mortgage. And the total amount you end up paying.
Now that you have learned the key differences between Mortgage Brokers vs Loan Officers, we recommend talking to both and see which one is a better fit for your financial needs.
Find the Best Financial Intermediary for You
With this, you have more knowledge about mortgage brokers vs loan officers than lots of consumers on the market. In this game called financial life, the more knowledge you have on the subject, the more advantageous it is for you. Don't let anyone tell you otherwise.
That's why we have created Tax Savers Online, so we can provide you with all the latest tax and business strategies from the experts. Please browse through the various articles on our website and get yourself informed. We have all sorts of articles for beginners on cryptocurrency, business loans, credit cards, and more.
Learn More
Commercial Real Estate Financing Basics
Investing in REITS and Real Estate Syndications: Ultimate Guide
Appraiser vs Real Estate Agent
Real Estate Agent: 10 Things You Should Know
Tax Deductions for Real Estate Agents 2021-2022: Ultimate Guide
Capital Gains Tax on Real Estate: Everything To Know