If you're planning on purchasing or selling a house, there's a good chance your shopping around for a real estate professional.
While realtors, real estate agents, and brokers can all help you navigate the process of a real estate transaction, they aren't all exactly the same.
What's the difference when you compare a realtor vs. real estate agent? Should you look for one over the other when you're looking to buy, sell, or rent a home?
Let's dive in and take a look at what you need to know.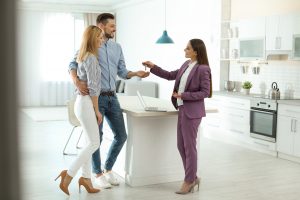 What Is A Real Estate Agent?
It's common to hear the terms realtor and real estate agent used interchangeably. For that reason, you might be surprised to learn that they actually aren't exactly the same.
A real estate agent is a real estate professional that is licensed to assist in the process of selling, buying, and renting out properties. They are paid a commission in exchange for their services. You might also hear real estate agents referred to as real estate salespeople and real estate associates.
Becoming a real estate agent requires licensing at the state level, so the requirements vary depending on what state an agent is working in. There isn't a federal license available for real estate agents in the U.S.
A real estate agent can help you market your home, negotiate the sale price, and generally assist you in navigating the process from prep to closing.
What Is A Realtor?
If you're hiring a real estate agent, you aren't necessarily hiring a Realtor. That's because Realtor is a term that refers to professionals that belong to the National Association of Realtors (NAR).
NAR is actually the largest trade organization in the nation. As members of NAR, these real estate professionals aren't necessarily real estate agents. In addition to real estate agents, they can also be appraisers, salespeople, property managers, real estate brokers, or other types of real estate professionals.
Realtors don't have any rights or legal privileges that real estate agents don't have. They do, however, promise to be honest and transparent along with upholding the best interest of their clients through a code of ethics.
There are a number of qualifications that someone must meet in order to become a Realtor. These are:
Possessing an active and valid real estate license
Being an active participant in the business of real estate
Not pending bankruptcy or having filed for recent bankruptcy
Not having unprofessional conduct on their record of official sanctions
If an individual meets all of these qualifications, they can then join a local real estate association that belongs to the National Association of Realtors. They also have to pay annual membership fees in addition to a one-time application fee.
There is a strict Code of Ethics that all Realtors are required to follow.
Realtor Vs. Real Estate Agent: Which Should You Hire?
If you are buying or selling a home, there's a good chance that it won't make much of a difference if you hire a Realtor or a real estate agent. Both of these professionals will typically perform the same duties when you hire them to help buy or sell a home.
However, as mentioned above, not all Realtors work in the capacity of being real estate agents. Some Realtors might specialize in a particular part of the home buying or selling process.
Hiring either a real estate agent or a Realtor that performs similar duties likely won't create much in the way of different outcomes. What is more important is finding a real estate professional that has a good track record, experience, and that you feel comfortable working with.
Why Is It Worth Hiring a Real Estate Agent?
Some home sellers might be tempted to try and save money in the process by not hiring a real estate agent. Instead, they list their home for sale by owner (FSBO).
However, most people choose to hire a real estate agent to help them through the process. Working with a real estate agent can ensure that your property is well-marketed, sells for the highest price possible, and sells in the shortest amount of time possible.
Real estate agents have wide networks that can help improve the outcome of your home sale. On top of that, using an agent when you sell your home can help to make the whole process less stressful and go much more smoothly.
Real Estate Agents Vs. Realtors: Does One Cost More Than The Other?
Luckily, you won't have to spend any more money to hire a real estate agent that has additional certifications. These real estate professionals earn a commission when your property transaction is completed. It is common for the buyer's and seller's agent to split 5-6% of the sale price of the home.
Usually, the property seller is the one that foots the bill for agent commission. This is the case for both the buyer's agent and their own agent.
Different brokerages and agents will charge different commissions. This means that you can shop around to find an agent that you feel comfortable working with that charges a commission in your budget.
(Are you shopping around for a lender in order to finance the purchase of a new home? Before you get too far down the road, you'll want to learn about the difference between loan officers and mortgage brokers.)
Are You Looking For More Valuable Resources To Boost Your Financial Well-Being?
When you go to sell or buy a house, you might feel overwhelmed by the seeming complexity of the process. For that reason, hiring a real estate professional can ensure that the transaction goes as smoothly as possible. However, it's worth understanding the difference when comparing a Realtor vs. real estate agent before you start shopping around.
Buying or selling a house is commonly the largest form of transaction that the average American participates in during their lifetime. Unfortunately, the world of mortgages, taxes, and personal finances isn't as straightforward as one might hope. For that reason, those that want to improve their financial well-being have to do their own research to make the decisions that best suit them.
Are you looking for more valuable resources to boost your financial health? If so, check out our library of articles.
Learn More
Real Estate Appraisers Tax Deductions 2021-2022 (Ultimate Guide)
Appraiser vs Real Estate Agent
Real Estate Agent: 10 Things You Should Know
Mortgage Brokers vs. Loan Officers: What is the Difference?
Tax Deductions for Real Estate Agents 2021-2022: Ultimate Guide
Real Estate Appraisers Tax Deductions 2021-2022 (Ultimate Guide)