Are you tired of overpaying your taxes? Do you wonder what you can start doing to lower you income taxes?
Did you know that installing solar panels from companies like Tesla or Zenernet can save you money on your tax return next year? While solar panel installation can cost thousands, the long-term savings on monthly energy costs combined with a federal tax incentive may make it worth your while.
Are you ready to learn more? We have compiled a list of Best Solar Companies in USA to help you get started, so keep reading for more information!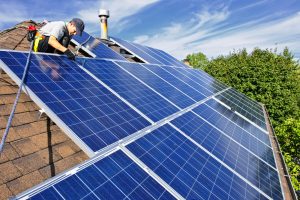 Best Solar Company Qualities
What should you look for in the best solar companies?
Customer reviews
Pricing
Availability
Options
For starters, it doesn't do any good to call on a company that doesn't have an office near you. Not every company on this list has nationwide coverage, so ensure you do your research first since solar companies are constantly expanding. Customer reviews and pricing play a big part, but reviews should come first.
If you choose the lowest-priced company, you might be sorely disappointed in their interactions and follow-up with you. Choose a company with great reviews and customer service overpricing. Lastly, you'll want a company that offers the solar panel types you want.
Many companies manufacture solar panels, and each solar company may offer different types. Some solar companies have limited financing, warranties, or additional options such as batteries and off-grid usage. You should also consider where you live, energy consumption, maintenance costs, and tax incentives!
1. Momentum Solar Review
Momentum Solar is one of the best solar companies in the United States, with options in ten states and counting! Its two main downsides are:
Unavailable nationwide
Does not have online quoting
You must call their office for a quote, but they rank highly on customer service. At Momentum Solar, you get to interact with a representative throughout your solar panel installation process, ensuring everything goes smoothly and that you are satisfied with the end piece!
Another benefit of Momentum Solar is they offer multiple solar panel brands and battery storage. This helps promote better flexibility and off-grid solar installation options.
2. SunPower Review
SunPower could easily take over the number one spot on solar panel installation companies. It edges out other competitors, such as Momentum Solar, by offering nationwide services. It manufactures and installs solar panels and provides technologically advanced software such as a design studio.
Home or business owners can see exactly how their solar panels will look once installed. Arguably, SunPower's second strongest selling point behind its nationwide coverage is its efficiency.
SunPower's solar panels are close to 23% efficient on energy conversion ratings. Only two companies come close to this mark:
For example, most solar panels are between 15% and 20% on energy conversion efficiency ratings. Why do high-performance ratings matter? After 25 years, most solar panels lose some of their efficiency.
High-rated panels should only drop to 90% of their initial numbers, whereas low-end panels may drop to 85 percent. Opting for SunPower solar panels means you will save more money long-term.
3. Sunrun Review
While Sunrun sounds oddly close to SunPower, the two companies are entirely different. Sunrun takes home the title of the largest solar company in the United States.
In 2020, Sunrun acquired Vivint Solar and had more than 500,000 customers. You don't grow that big without having a reputation in the solar industry. One of its main benefits is that it appeals to a wide region, mainly in the West, since Vivint's headquarters were in Utah and Sunrun in California.
Some other benefits of opting for Sunrun solar are:
Full protection plans
Daily monitoring
Online and easy-to-use customer service
They also provide a decent warranty and have multiple financing options. Having flexible financing is important since leasing your solar panels can affect federal tax credits (more on that later).
4. Tesla Review
It is hard to mention a list of solar panel installers without mentioning Tesla. Although it has sunk its teeth into the electric car industry, it has not shied away from solar panel installation. Tesla is fairly new to the solar panel world, which means it still has a ways to go to break the number one spot on this list.
Approximately six years ago, Tesla acquired SolarCity with the ultimate goal of sleek and modernized solar panels. Their installation boasts that you won't even see your rooftop solar panels. They also offer complete solar roof installation.
However, their performance has been a bit shaky. There have been complaints of rooftop fires and poor customer service. Yet, despite its slow start, it is one of the leaders in:
Solar batteries
Off-grid panels
It is also available nationwide and comes with a lengthy warranty.
4. Zenernet Review
Zenernet is a smaller company that has excellent customer reviews. Some of Zenernet's positive aspects include:
Free consultation
Customizable designs
Strong warranties
Innovative technology
Zenernet offers panels from Panasonic, LG, Solaria, Hyundai, and more! They also have one of the longest warranties on the market that covers labor, installation, and equipment.
Lastly, Zenernet offers high-end technology that lets you monitor energy consumption and cut back usage. Their easy-to-use app makes it user-friendly to evaluate your home's energy needs and reduce overall expenses.
Since the pandemic, the company can operate remotely and offers more accurate price quotes based on your address and energy consumption. Home and business owners find this process easy, reliable, and efficient, which is primarily why they saw their revenue increase by 88 percent.
The main downside of Zenernet and why it isn't ranked much higher on this list is that it is only available in California, Arizona, Colorado, and Illinois. For a small solar company, it is definitely one to keep an eye on in the future!
6. SunLux Review
Like Zenernet, SunLux is not offered everywhere. The only two states it has operations in are California and Texas. Luckily, these two states are some of the top places for solar installation, both ranking in the top five for sunniest states. What makes SunLux an excellent solar panel company?
Online estimator tool
Extensive warranties
Close system monitoring for optimal efficiency
SunLux will perform an in-person site evaluation where you can find out exactly what services and installation grid you will be getting. They also have incredible company reviews and plenty of customizable options.
7. Semper Solaris Review
Semper Solaris is also based out of California and is one of the hottest and newest solar companies on the market. They are partnered with Enphase Energy, Inc. to help deliver:
Microinverters
Batteries
Solar panel systems
Their innovative partnership is one of the most unique on the market – it can help supply power during outages without using backup batteries. Their redesigned app lets home, and business owners view their energy consumption and provide customizable options. Some other benefits of Semper Solaris are discounted prices, maintenance services, and financing options.
8. Soleeva Review
Soleeva is a great option for affordable solar pricing. They stand out from other companies with their self-cooling and self-cleaning solar panel technology.
Soleeva helps you save money in the long-term and transition your home or business toward a more energy-efficient system. They have also been around the solar industry for over a decade and have positive reviews on the Better Business Bureau.
How do their self-cleaning systems work?
Their solar panels have a top coating that repels dirt and debris, saving you time, money, and reducing energy production. And believe us – it can save you a lot of money on maintenance costs.
For example, dirty solar panels can lose up to 7% of their function. Ten-megawatt solar farms cost nearly $5,000 just to clean. While this won't be the price of a home, it can add up over time. Opting for Soleeve ensures your solar panels are self-sufficient and maintain higher energy output for decades.
9. Blue Raven Solar
Blue Raven Solar is likely to pop up on any simple search for top solar companies. While it might not be the number one company out there, they have competitive pricing options, excellent financing, and positive reviews. One of the negatives in years prior was that Blue Raven did not offer solar batteries.
Solar batteries are great additions for electric vehicles (more on that below), power outages, and energy consumption at night or during cloudy days. Battery options are expected soon, so contact a local agency for more information on timelines.
Another downside is it isn't offered nationwide and does not have lease or power purchase agreement options. While leasing isn't the go-to choice for solar panel owners, it does cut out future buyers interested in solar but cannot afford a loan or outright purchase.
10. ADT Solar Review
ADT Solar has a comprehensive warranty on its products and constant solar panel monitoring. You can receive feedback on how your solar panels function daily, helping guarantee production for at least 25 years.
Currently, ADT Solar is not available in every state, although it has expanded to nearly half of the United States. If you are unfamiliar with ADT Solar and wondering why smart business security made a list of solar companies, you aren't alone.
Last year, ADT acquired Sunpro Solar and is now in 22 states and counting. Through ADT Solar, you will get the benefits of smart security and energy efficiency!
What Is the Solar Tax Credit?
There are two parts to the solar tax credit:
Federal tax credits are easier to navigate than state incentives. Anyone can qualify for the Solar Tax Credit if you install a solar panel system this year. It can be for a business or residential home and covers up to 26% of the entire cost. In 2023, this number will decrease to 22 percent.
The goal of the Solar Tax Credit is to incentivize home and business owners to start transitioning towards solar. It had an initial expiration date of 2019 but was recently extended until next year. The tax credit can cover the costs of:
Photovoltaic solar panels
PV cells
Labor
Permit fees
Batteries
Electrical equipment
Are you wondering how you can qualify? The process is simple – here are a few criteria you must meet:
Install a photovoltaic system by December 31, 2023
Must be a primary or secondary residence
You must own the solar panel system (e.g., no leases)
Must be original installation
Each state has different rebates, net metering, or discounts. It may depend on the company, and the year your solar panels are installed. Unfortunately, not every state offers excellent tax incentives, and some states might have better opportunities for solar installation.
Electric Vehicle Chargers and Tax Incentives
If you have thought about installing solar panels, you may wonder if you can start powering your electric vehicles with them. In short – yes, you can charge your electric vehicle completely through solar.
Experts recommend using a solar battery storage system for the best results. When it is nice and sunny outside, you can power your home and electric needs through the grid.
Yet, when night falls, or it's a cloudy day, you either have to use community solar or pull from the electric grid. Most homeowners charge their vehicles at night, and batteries are excellent for storing unused solar and using them as needed.
If you haven't purchased an electric vehicle yet, but have an interest, you may want to hear what we have to say next. There are federal tax credits available for some electric vehicles. The process is more challenging than solar panel installation.
The IRS offers incentives on specific electric vehicle makes until it hits 200,000 sales. As an example, Tesla hit this mark back in 2018.
New electric vehicles by Tesla and GM no longer have federal tax incentives. Here is how you can get started:
Purchase a vehicle from the list of federally qualified manufacturers
Purchase without the intent of reselling
Do not lease the vehicle
As a backup plan, you shouldn't solely rely on federal tax credits for this one. The IRS can reject any vehicle purchase, but with rising gas prices and the ability to fully charge it from your solar panels, it is another great option for homeowners!
Start Benefiting From Solar Today
You can start benefiting from solar through reliable companies like Zenernet. Transitioning to solar energy helps you save money in the long term and can help lower your income taxes!
With these top ten Solar companies in mind, you can start getting a few quotes on ones near you before deciding. And if you enjoyed this article, check out the rest of our blog on other ways you can save money on taxes this year.
Learn More
Are Solar Panels Safe for your Roof?