If you're like most homeowners in the United States, you probably think of your roof as nothing more than a necessary cover for your home. However, did you know that your roof can also be used to generate electricity for your home?
Installing solar panels on your roof is a great way to take advantage of this renewable energy source. Not only will you be helping the environment, but you'll also be saving money on your monthly energy bills.
If you're interested in learning more about solar panels and roofing, keep reading.
We'll discuss everything you need to know about Solar Panels and its impact on your roof.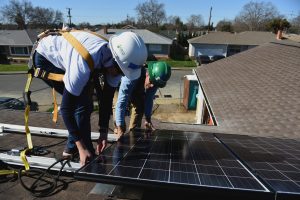 Are Solar Panels Safe for Roof?
Solar panels are a great way to save money on your energy bill and help the environment. But are they safe for your roof? Solar panels are made of strong, durable materials that can withstand severe weather conditions. However, solar panels can be damaged by high winds, hail, or falling tree limbs.
If a Solar Panel is damaged, it needs to be replaced as soon as possible to avoid water leaks. Water leaks can cause serious damage to your roof and home.
Solar panel manufacturers typically offer warranties that cover the cost of replacement panels.
So, if you're concerned about the safety of Solar Panels on your roof, be sure to check with the manufacturer of your Solar Panels to see what type of warranty is available.
What is the Best Roof for Solar?
Solar panels are a popular choice for those looking to reduce their carbon footprint and become more energy-efficient. However, not all roofs are created equal when it comes to solar panel installation.
Flat roofs, for example, can make it difficult to properly angle the panels to maximize sun exposure.
Metal roofs are also not ideal, as they reflect sunlight rather than absorb it.
The best roof for solar panel installation is a south-facing slope with an asphalt shingle roof.
This type of roof allows the panels to be angled optimally to capture the most sunlight possible. As a result, a south-facing slope with an asphalt shingle roof is the best choice for those looking to install solar panels.
Are Solar Panels Safe for the Environment?
Solar panels are made up of photovoltaic cells, which convert sunlight into electricity. Solar panels are safe for the environment because they do not produce emissions or pollution.
Solar panels are also recyclable, so they can be reused instead of being sent to landfill. The main environmental concern with solar panels is the manufacturing process.
Solar panel manufacturing requires the use of toxic chemicals, which can pollute the air and water. However, there are many steps that solar panel manufacturers take to minimize environmental impact.
Solar panels have a small carbon footprint and are a renewable source of energy, making them a safe and environmentally friendly option.
Final Thoughts
Conclusion paragraph: Although solar panels are a great way to save money and be more environmentally friendly, it's important to weigh the pros and cons before making a decision.
We hope this article has helped you better understand whether or not solar panels are safe for your roof and which type of roof is best for solar installation.
Continue reading our other articles to learn more about Why your business should go solar, Solar Tax Credits and Best Solar Companies in USA