Are you looking for a way to save money on your business energy costs? Solar power might be the answer. Installing solar panels can help reduce your reliance on the grid, and save you money in the process.
Here's what you need to know about Why your business should go solar and how solar panel installation for business can help you save money.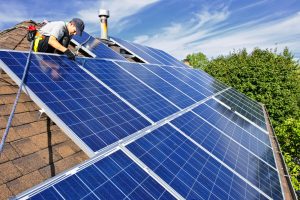 Why Your Business Should Install Solar
Solar panels for business are quickly becoming a popular choice for companies who want to reduce their energy costs and help the environment.
By installing solar panels on your business property, you can generate your own electricity and reduce your reliance on the traditional power grid.
For many businesses they pay much higher price during the day time to the utility company between 9am to 5pm and by using solar during these hours, you can dramatically lower your utility bill. 
Not only is this a good financial decision, but it also helps promote sustainability and conserve resources. If you're thinking about making the switch to solar power, here's Best Reasons why your business should go Solar.
Solar Power Benefits for Businesses
There are 9 main advantages when it comes down to investing in solar power for your business. We believe these business and tax advantages will definitely help you save money and become energy independent.
We recommend reading this article and weighing pros and cons. Lets take a detailed look at How your business can benefit from Solar Panel Installation.
Solar Tax Benefits & Credits
Biggest benefit of installing solar for your business is the Solar Tax Credits. The federal Solar tax credit are governments way of encourages businesses to invest in renewable solar energy.
Here are the 4 Main Tax benefits you'll receive when you install solar power for your business.
Federal Solar Tax Credit
US Government(IRS) offers a 26% tax credit for installing solar power systems. This means that if you invested $100,000 into your solar installation and are entitled to receive an Income tax credit of up to $26000 dollars !
The Solar Tax Credit program has no cap so it's possible for you to not only save money in energy costs but also get federal rebate on Solar Panel installation.
This ITC will decrease to 22% in 2023 and further reduce to 10% later if the congress doesn't extend of amend this credit.
The amount of this incentive is based on how much you spent and when it was installed, so make sure to take advantage while the policy lasts!
MACRS Accelerated Depreciation
If you install Solar for your business, you are eligible for Accelerated depreciation.
MACRS depreciation is the method of depreciation required by the IRS. Accelerated Depreciation allows you to deduct a larger portion of the cost of an asset in the early years of ownership, when the asset is likely to be used more heavily.
The MACRS method provides for a series of depreciation rates, which decline over time.
This approach results in a higher deduction in the first year, and a lower deduction in subsequent years. The MACRS method is generally favorable to taxpayers, as it allows for a faster write-off of the cost of an asset.
Performance-Based Incentives (PBIs)
Solar PBIs are a great way to encourage people to switch to solar energy. PBIs are basically payments made to solar energy customers based on how much power they generate.
The incentive is usually paid out over a period of time, and it can be a great way to encourage people to make the switch to solar.
PBIs are also a great way to offset the cost of solar panels, since the payments can help lower the cost of the solar system by motivating installers and solar system owners to focus on proper installation, maintenance, and performance of their solar systems
Interest Tax Deduction
If you finance your system and pay interest on the finance amount, you can deduct this interest as tax deduction. This can help you lower your tax burden further.
Pro Tip: Please not that you cannot depreciate the entire $100,000, you need to reduce this by one half of the Solar Tax Amount
For Example: If your business spends $100,000 on Solar panels and installation.
you will reduce your purchase by one half of the solar tax credit i.e. $26,000 divided by 2 = $13,000
$100,000 -$13,000(half of $26,000) = $87,000 and use this as the amount you can use for MACRS depreciation.
Lower Your Business Expenses
Businesses and startups are always looking for ways to save money. One way that you could be saving your company thousands of dollars on electricity bills is going solar!
You don't have pay the high price tag associated with utility services, instead getting access at a much lower rate from generating their own energy through photovoltaic panels installed outside work premises or even on the roofs and car ports.
You can also install Battery Backups and use these
Better Return on Investment(ROI)
When it comes to solar energy, the return on investment (ROI) is an important factor to consider. For businesses, a solar installation can provide a number of benefits, including reducing energy costs, offsetting emissions, and improving the bottom line.
In terms of ROI, businesses typically see a payback period of 3-5 years for their solar investment. After that, the savings continue for the lifetime of the system (which is typically around 25 years). For homeowners, the ROI is often lower since the initial investment is higher.
However, with incentives like the federal tax credit and net metering policies, the ROI for solar can be quite attractive. Incentives vary from state to state, so it's important to do your research before making a final decision.
When it comes to solar energy, ROI should be just one of many factors that you consider.
Lower Carbon Footprint
Carbon footprints have become a popular metric for individuals and businesses to gauge their impact on the environment. Carbon footprints are a measure of the amount of carbon dioxide and other greenhouse gases emitted by activities such as transportation, manufacturing, and electricity generation.
Solar power is a renewable energy source that can help to lower carbon footprints. Solar panels convert sunlight into electricity, and this process does not generate any emissions.
In addition, solar power can displace other forms of energy generation that have a higher carbon footprint, such as coal-fired power plants.
As a result, solar power is a key component in reducing greenhouse gas emissions and mitigating climate change.
Protect Your Environmental & Fight Climate Change
As more and more people become aware of the need to protect the environment, solar power is becoming an increasingly popular option. Solar energy is a renewable resource that can be used to generate electricity, heat water, and even cool buildings.
Perhaps most importantly, solar power produces no greenhouse gas emissions, making it a major contributor to the fight against climate change.
In addition, solar power is extremely versatile and can be used in a variety of locations. Whether you live in a sunny apartment or a sprawling rural property, there's a solar solution that's right for you.
So if you're looking for a way to protect the environment and save money on your energy bills, solar power is definitely worth considering.
Increase in Your Business Property(Real Estate) Value
Real estate is always a solid investment, but did you know that installing solar panels on your business property can actually increase its value? That's right – according to a recent study, properties with solar installations are worth an average of 4.1% more than properties without them.
And that's not all – solar panels can also help you save money on your energy bills, providing a return on investment that just keeps getting better over time. So if you're looking for a way to increase the value of your real estate portfolio, solar is definitely the way to go.
Additionally, solar panels can help reduce your business's energy costs, making it more profitable and attractive to potential buyers. If you're thinking of selling your business in the future, solar installation is a great way to increase its value and make it more appealing to buyers.
Low Maintenance Cost (For Solar Panels)
Maintenance and repairs are a natural part of owning any type of equipment or machinery. Solar panels are no different.
However, the good news is that solar panels require very little maintenance and the occasional repair is usually inexpensive and easy to fix.
In fact, most manufacturers offer warranties that cover all Maintenance and repairs for solar panels. When it comes to Maintenance, solar panels only need to be cleaned occasionally to remove dirt and debris.
This can be done with a hose or a soft brush. If you live in an area with heavy snowfall, you may need to have your panels cleared of snow a few times each winter.
As for repairs, the most common issues are loose connections and cracked panels. These problems can usually be fixed quickly and easily by a qualified technician.
Overall, the Maintenance cost for solar panels is relatively low, making them a very cost-effective option for homeowners.
Low Cost & Flexible Financing Options
Most Solar Companies has a variety of options for businesses that want to go solar. For example, many offer 100% financing with $0 down and no credit requirements!
Its important that you read the fine print to make sure your business can afford the monthly payments.
Energy Independence & No Power Outages
The potential for power outages is one of the few downsides to using traditional energy sources.
However, this will never happen with solar panels on your business's building because they are designed specifically so that when there's an emergency or even just routine maintenance need; you can still get all necessary electricity without interruption!
Final Thoughts
Solar energy is becoming more and more popular for businesses, both small and large.
If you're still on the fence about whether or not solar is a good investment for your company, we hope this article has helped to shed some light on the benefits of going solar.
In addition to reducing your carbon footprint and saving money on your utility bills, solar panels can also increase the value of your property.
Keep reading our blog for more tips on how to make your business more sustainable and environmentally friendly. Are you convinced yet?
Learn More
10 Best Solar Companies in USA: Zenernet, SunPower, and More
Understanding Solar Tax Credit in 2022
References