If you need to purchase a vehicle for your business, it would be best if you applied for a business auto loan. These loan options pay for your business vehicle and come with excellent tax deductions. Several different banks, such as Bank of America or Wells Fargo, offer these loans at competitive rates.
So what do you need to look out for when choosing a loan for your business? Continue reading below to learn more about the different banks that offer business loans and where you can go to learn more about the various tax deductions you can take for your business.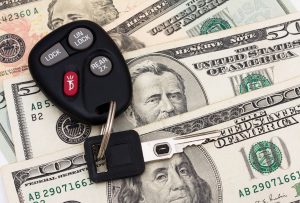 What Is a Business Auto Loan?
A business auto loan, often known as a commercial auto loan, is financing you can receive from a bank to purchase a vehicle for your company. These loans typically cover trucks, vans, and cars. If your business needs a heavy-duty vehicle, you may need a commercial truck or equipment loan instead of a business auto loan.
Personal Loan vs. Business Auto Loans
These types of loans both act similarly when it comes to getting the money needed to purchase a vehicle, but there are a few main differences between them. For example, business auto loans are reserved only for vehicles used for business purposes.
In general, small business owners' personal lives blur with their professional lives. Still, it is important to note that when you use a business vehicle, you must only use it for business needs.
When you apply for a business loan, the lender will need information on how you plan to use the vehicle. They may also ask you for company financial statements or a business plan to support your reasoning.
Vehicle in Your Business Name
For those qualified, some lenders allow you to put the vehicle loan in the name of your business. Doing this protects your personal assets or credit should your business be unable to repay the business auto loan. If you don't qualify, the lender may ask you to put up a personal guarantee which promises that you will take full responsibility to pay back the debt, not your business.
Business Tax Deductions Available
If you lease or buy a vehicle strictly for business use, you have the opportunity to deduct operation and business costs. You also can deduct the depreciation of the vehicle's value.
There are several different ways to claim credits for a business vehicle. For example, under Section 179 of the tax code, you can deduct the entire cost of the car, depending on the vehicle's type and weight.
If you want to learn more about the different deductions you can take on your business vehicle, you can reach out to a reputable tax professional for more information. They can look over the business use of the car and apply different tax laws.
How to Get a Business Auto Loan
Before you can apply for a business auto loan, there are a few things you need to do, such as finding the right vehicle. This means finding a car that fits your business needs and one that a lender will take on lending.
For example, if you plan on leasing a used vehicle for the business, make sure to check in with the lender to see if they will lend money for that vehicle. Most lenders don't approve business loans for cars older than five years or above a specific mileage threshold.
Compare Different Offers
Below, we will cover several different banks that offer business loans and their pros and cons so you can make the best decision for your business. In general, if you already have a banking relationship with a bank for a business account, you may have a better chance of receiving approval from them if they offer business auto loans.
If you find that the bank you do business with does not have favorable terms or they don't offer business auto loans, you will need to shop around. When you do, be sure to check out their APR details and how much they can finance for you.
Apply With the Lender
Once you find a lender that works best for you and your business, you can apply. Although all lenders have their own underwriting processes, there are a few things each lender looks for when you apply.
Standard application documents needed for business auto loans:
Business tax ID
Business license
Information of all involved business owners
Having this information on hand can help streamline the application process. It also helps to call ahead to the lender to see what documents they need to consider the loan.
When It Makes Sense to Lease or Buy
Business auto lenders allow small business owners to either lease or finance business vehicles. If you want to own the car outright, you should consider financing the vehicle. If you don't plan on owning the car after a specific time, you should consider the leasing option.
Depends on How You Use the Vehicle
When you outright buy or finance a vehicle, you are free to use the car as you see fit. With a lease agreement, there are strict rules on how you use the car and what you can do with it.
Common lease terms you must abide by:
Driving under a certain amount of miles each year
If you can do modifications to the vehicle (such as wraps)
Paying a termination fee if you terminate the lease early
Guaranteed Auto Protection Coverage (GAP)
Some lenders don't allow you to purchase the vehicle at the end of your lease term, whereas others do. Each lender has its terms and conditions you must follow when it comes to leasing with them, so make sure you understand them completely before signing.
Wells Fargo Business Auto Loans
Wells Fargo is a well-known bank that is best for highly qualified borrowers. They are excellent not only for business auto loans but also for commercial equipment loans. You can reach out to Wells Fargo for a commercial equipment loan if you need a loan for specialty vehicles, motor coaches, trucks, semi-trailers, and more.
Advantages of Wells Fargo Business Auto Loan
One of the most significant advantages of working with Wells Fargo is its large branch footprints. They have over four thousand different branches in the United States, which makes it easy to access them if you wish to make your payments in person.
No Additional Fees
Unlike other lenders, Wells Fargo does not charge its clients any prepayment penalties if they wish to pay their loan early. They also don't charge any application or origination fees.
Strong Customer Service Rating
Most clients that work with Wells Fargo boast that the company has high customer service experiences. They receive a 4.5 out of 5-star rating when it comes to their customer service rating.
Disadvantages of Wells Fargo Business Auto Loan
Although Wells Fargo is well known for its extensive network of branches and high customer service ratings, there are a few disadvantages that come with working with them.
For example, there is no set information on how much you can expect for a rate on a loan. You won't know what to expect until you get to a dealership and meet with a sales representative.
No Loan Prequalification
Many lenders provide their clients with the option to pre-qualify so they can get a better idea of how much they can borrow. Knowing this type of information gives you negotiating power. It also saves you from a hard credit pull.
Bank of America
Bank of America is another well-known bank that provides its clients with the option to lock in their auto loan rate offer for 30 days while you shop for a vehicle. This is great if you are in the market for a business vehicle but aren't sure which car you want to purchase just yet.
Advantages of Bank of America's Business Auto Loan
A significant advantage of working with Bank of America is their low APR. Compared to the competition, their rates are much lower and start at about 2.46%. Of course, the final APR you receive depends on your business credit and other underwriting factors determined by the lender.
Can Finance Used Vehicles
If you want to finance a used vehicle, you can do so through Bank of America. They require the car to be less than ten years old with less than 125,000 miles, or they won't consider the application.
No Hidden Fees
When you work with Bank of America, you can expect complete transparency. They do not charge their clients an origination fee or any prepayment penalties if you decide to pay off the loan earlier than your agreed-upon terms.
Disadvantages of Bank of America's Business Auto Loans
When working with Bank of America, you have to meet a minimum loan amount, or else they won't approve the loan. For example, they require the loan amount to be at least $7,500. If your budget is less than that, you will need to consider working with another lender.
Rate Discounts Exclusive to Account Holders
Through Bank of America, there are rate discounts available to those who are already account holders. This is an added benefit if you already use Bank of America, but for others, you can't get this discount unless you're a current account holder.
Celtic Bank
Celtic Bank is a financial institution based in Salt Lake City, Utah, that offers small business loans in all fifty states. They offer their clients equipment purchase loans in addition to business auto loans.
Advantages of Celtic Bank
Although this bank is not as well known as its competitors, they do have some advantages that clients enjoy. For example, they can offer their clients higher than average loan amounts, well into the millions if needed.
Low Minimum Annual Revenue
You don't need to have high annual revenue when qualifying for a loan through this lender. All you need is a minimum annual revenue of $28,000 or higher to be considered for their loan.
Disadvantages of Celtic Bank
The main disadvantage of working with this company is their origination fee. Unlike other lenders, Celtic charges an origination fee that gets taken out from your approved loan amount before they disburse the funds.
Prepayment Penalties
When working with this bank, you must make your monthly payments on time, and you can only pay what is agreed upon in your terms. If you pay more than asked in an attempt to pay down the debt, they will hit you with a prepayment penalty fee.
Crest Capital
Crest Capital is a lender that provides its clients with fast funding for business auto loans and equipment financing. If you need to lease or purchase a truck, semi-trailer, or other heavy-duty machines under $500,000, you can do so through Crest Capital. This company is best for those looking for alternative funding for equipment financing.
Advantages of Crest Capital
One significant advantage of working with Crest Capital is its streamlined application process. If you plan to finance less than $250,000, you won't have to provide the lender with too much documentation.
Any amount higher than that will require a more in-depth process. If you wish to finance less than $250,000, you can complete the document online or in person.
Easy Qualification
If your company has been in business for at least two years and you have a credit score of 650 or higher, you can qualify for a loan with Crest Capital. As long as you don't have any delinquent payments or non-payments with any other lender, you shouldn't have a hard time trying to secure a loan.
No Collateral Needed
Some lenders require you to put up collateral to secure a loan, but not with Crest Capital. The equipment or vehicle you purchase with the loan serves as the collateral.
If you don't make your payments on time or completely default on the loan, the lender will take possession of the equipment. They will then sell the equipment or vehicle to recoup what they lent to your business.
Disadvantages of Crest Capital
When working with Crest Capital, there are a few fees you should be aware of. The lender collects a $250 documentation fee from your loan before they issue the funds out.
They also will take out the first month's payment from your approved amount. The company won't provide you with the funds directly; instead, they will pay the vendor of your choice on your behalf.
Doesn't Work with Startups
As mentioned earlier, they won't consider your application if you have not been in business for at least two years. This may be an advantage for those already in business, but if you're a startup, you won't qualify.
Lengthy Application for Higher Amounts
If you need to borrow more than $250,000, Crest Capital will ask you for additional documentation.
Documents needed for higher loan amounts:
Tax returns
Financial statements
Purpose of the equipment
Business plan
Other loans and leases
Once they have all this information, they will need time to look it over. This processing time can take weeks if they have additional questions about your paperwork.
US Bank
US Bank provides its borrowers with excellent leasing and financing options if they have favorable credit profiles. They specialize in offering business auto loans for refinancing and used cars.
Advantages of US Bank
They can offer you a discount if you have an account with US Bank. When you set up automatic payments for your business auto loan, they give you a 0.5% rate reduction.
Different Options for Term Lengths
When you partner with US Bank, they offer their clients six-term lengths. You can choose between one to six years which gives you more flexibility on the time you have to repay the loan.
Disadvantages of US Bank
Although they offer their clients repayment term flexibility, if you wish to buy out of your loan, you won't be able to do so with US Bank. If you want to have that option, you will have to look elsewhere.
Prepayment Penalties
Clients who wish to close their accounts within one year must pay a prepayment penalty fee. This fee is 1% of the original business auto loan amount.
High Minimum Loan Amount
The lowest amount of money a client can get from US Bank is $5,000. If your business only needs a couple thousand, you won't be able to with US Bank.
PNC Bank
PNC Bank is another well-known bank with over 2,000 branches across the United States. If you have a strong credit profile and a relationship with the bank, you are more likely to receive better auto loan options. They can provide you with a business auto loan over the phone, online, or in person.
Advantages of PNC Bank
PNC Bank has a Total Auto Program and a Check Ready Loan option that both provide their clients with fast funding to purchase the business vehicles they need. With the PNC Total Auto Program, you have the opportunity to search for cars in your area, compare prices, and receive the money you need to purchase the vehicle overnight.
Disadvantages of PNC Bank
If you need less than $7,500 to finance a vehicle, you must go to another bank. The minimum loan amount for PNC Bank is $7,500; if you need to refinance, the minimum is $5,000.
Unspecified Requirements
PNC does not specify its requirements regarding credit score minimums and business revenue. This makes it harder to know if you would even qualify with the business for a loan.
Some Loans Require Branch Visits
If you plan on financing a business vehicle through a private seller, you must first go into a branch to apply for the loan. PNC only operates in 29 states, so if you don't live in one of the states they operate, you won't be able to get a loan.
National Funding
National Funding is a well-established alternative lender that provides small businesses with funding options they may not have been able to get through traditional lending. They offer their borrowers short-term business auto loans and equipment financing options.
Advantages of National Funding
One of the most significant advantages of working with National Funding is the short time in business. Your business only needs to be in business for at least six months before you can apply for a loan with them. The minimum required credit score is 500.
High Borrowing Maximums
If you wish to get a business loan with National Funding, you can apply for as much as $500,000 or as little as $5,000. The term length for these loans is between six to fifteen months.
Fast Funding
The application process can be done online, and most clients receive the status of their application within 24 to 48 hours. Depending on how much you wish to borrow, you may need to wait a few more days for the bank to review all of your documents.
Disadvantages of National Funding
Although this company boasts quick approval times, they have higher than average rates. This is because they take on more risk when they lend to clients with less than favorable credit profiles.
Additional Fees
National Funding uses a fixed-fee structure, meaning you pay a one-time fee instead of paying interest on the loan. This fee ranges between 17% to 36% of your loan amount. In addition to this fee, you also have to pay a 2% origination fee.
CapitalOne
CapitalOne is another well-known financial institution that does business in most states except Alaska or Hawaii. They are more known for their credit card options, but they also specialize in business auto loans.
Advantages of CapitalOne
The application process through CapitalOne is relatively easy, and you can pre-qualify before submitting a complete application. When you apply, you will get your results within the same day.
Accepts Low Credit Scores
CapitalOne works with clients of all types of credit profiles. The lower the credit score, the higher the APR.
Find the Best Business Auto Loan
Business auto loans through lenders such as Bank of America or CapitalOne come with their own list of pros and cons. Some cater to startup businesses, whereas others prefer their clients to be in business for a few years before considering the application.
Regardless of how long you've been in business or what type of business vehicle you need, compare your options before deciding on a lender. If you found this article helpful and want to learn more about business deductions you can take on your business auto loan, check out our blog!