Did you know that if you have a business vehicle that you use primarily for work, you can't put it on your personal auto insurance policy? Sure, several top auto insurance companies, such as Progressive and Nationwide, offer auto business policies in addition to their personal auto lines, but the two are wildly different.
Driving a business vehicle comes with some unique risks that commercial auto insurers are well aware of and that they must price accordingly. So who are the top commercial auto insurers, and what do they offer? Continue reading below to learn about the top ten commercial auto insurers in the United States and what they can provide your business.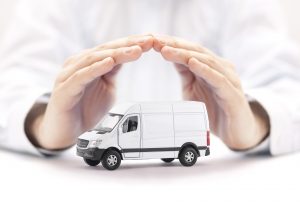 Criteria for Best Insurance Companies for Business Vehicles
When you are looking for the best insurance companies for business(Commercial) Vehicles, you need to look at the company ratings, company history, ability to payout large claims, experience in your industry. Based on our extensive research we have compiled to top 10 best insurance companies for business vehicles(commercial auto).
1. Progressive Commercial Insurance
Progressive is the best commercial auto insurer with the best overall savings. They are the most significant commercial auto insurer in the United States, providing insurance to about 12% of the market. They offer top-class commercial insurance for truckers, and they have several discounts available for your fleet.
They have policies available in all 50 states, and if you need them, they can cover your fleet of tow trucks if required.
Standard vehicles covered by Progressive:
Garbage trucks
Delivery vans
Cement trucks
Box trucks
Ice cream trucks
Etc.
Even if you have a regular business vehicle that you drive around, such as a compact vehicle or an SUV, Progressive can write you a commercial policy for that vehicle if it is mainly used for business.
To receive a quote from Progressive, you can call them or fill out your information online. When paying for your policy, you can opt to either pay the premium upfront or split your payments into monthly increments.
Coverages Offered by Progressive
Progressive offers their clients general liability policies, uninsured and underinsured motorist, rental reimbursement, collision, and comprehensive coverages. If you want to add medical coverages to the policy, you can add medical payments or personal injury protection. This will cover your drivers if they sustain injuries in an accident.
2. State Farm
State Farm is highly regarded for its customer service. They also have excellent financial strength and high satisfaction ratings for their claims handling process. Like most commercial auto insurers, they offer general liability, collision, and comprehensive coverages. They also allow you to purchase uninsured/underinsured motorist coverages and medical payments coverages.
If you wish to get a policy from State Farm, you have to either meet with an agent or call them over the phone. They do not have an option to review cost estimates online.
3. The Hartford
The Hartford is an excellent company if you are a larger business. They have a few complaints with the NAIC, but their reputation for providing mid to large companies with unique solutions sets them apart. The Hartford's risk engineering team provides your business with telematics to identify risky driving behaviors, and you can use this information to coach your drivers.
They can sell single-line commercial auto insurance, but they prefer to write multi-line accounts. Unfortunately, you have to call them directly if you want a quote. The company has been around since 1810, and they have an A+ financial strength rating.
4. Travelers
Travelers is the second-largest commercial auto insurance provider that also specializes in business insurance. Their policies are available in all fifty states, and they have a vast library of risk management resources.
If you need to add a non-owned vehicle coverage policy to your commercial auto policy, they can do that for you. They have a four out of five rating amongst customers. If you wish to see what your quote will be for a commercial auto policy, you have to reach out to Travelers. They sell their policies through their agents.
5. Amtrust
Amtrust offers its clients commercial auto liability coverage meant to protect all types of vehicles. They can write you a policy regardless if you need one single unit policy or a policy for a fleet of cars. Amtrust does have businesses that they prefer and don't prefer.
Preferred businesses from Amtrust:
Residential and commercial contractors
Distributors
Appliance repair
Energy companies
A few examples of some distributors are those who distribute food or beverages. For contractors, they prefer to work with HVAC, landscaping, and framing companies.
Ineligible businesses:
Car haulers
Ambulances
Wreckers
Heavy equipment movers
Iron/Steel hauling
Etc.
In order to get a policy, you must call them. You also have to complete the ACORD application with FEIN, and you have to provide them with your current drivers' list and three years of your loss runs. Like most commercial auto insurers, they provide collision, comprehensive, under/uninsured motorist, medical payments, personal injury protection, and general liability coverages.
6. AAA
Although most customers complain that AAA has the highest rates amongst most commercial auto insurers, they have a high rating for their customer services and bundling options. They do have some discounts they can offer their clients if you qualify for it, and they can help drive down the cost of your policy.
They offer their clients the standard auto insurance coverages (collision, comprehensive, etc.). They offer telematics to help track your drivers and their driving habits if you would like. If your drivers drive safely, you can receive a discount.
7. Nationwide
Nationwide, although the name may indicate as so, it is actually not available nation wide. In the states that they exist in, they offer high customer satisfaction ratings and can offer their clients a wide range of different discounts. To receive a quote from this company, you can call them or submit a quote online.
Coverages offered for businesses:
The standard coverages (collision, comprehensive, PIP, MedPay, general liability)
Auto loan or lease gap coverage
Hired auto loss of use
New vehicle replacement
Bundled business products
If you or your employees get into an accident, you don't have to call them. Instead, you can submit the claim online and have a representative reach out to complete the claims process. They also offer rental reimbursement if needed.
8. Liberty Mutual
Liberty Mutual has commercial auto insurance policies available in all fifty states. Although they can write policies in all 50 states, not all of their coverages apply to each state.
They have excellent financial strength, and their claims service is available 24 hours a day, 7 days a week. If you need to file a claim, you have to call them; you cannot submit a claim online for commercial auto policies.
Available Liberty Mutual coverages:
General coverages (collision, comprehensive, PIP, MedPay, general liability)
Liberty Mutual deductible fund
New or better car replacement
Lifetime repair guarantee
Rental car reimbursement
Accident forgiveness
Liberty Mutual is a Fortune 500 company and is one of the United State's top ten largest auto insurers. They have an A rating with A.M. best which means they have the financial strength to handle claims. They also have a high rating and accreditation through the Better Business Bureau.
9. Hiscox
Hiscox has been around for well over one hundred years, but not too many people know about this company. Most are a bit more familiar with other top brand auto insurers like Nationwide and Farmers.
This could be because they mainly write commercial policies, not personal auto policies. They offer the basic commercial auto coverages in addition to auto-related medical coverage.
Hiscox commercial auto policies cover damages caused to any hired, owned, or rental vehicles used for business. They have an A rating from the Better Business Bureau, and their customers claim that their rates are relatively reasonable when compared to other insurance companies.
10. Philadelphia Insurance
Just like Hiscox, Philadelphia insurance, also known as PHLY insurance, is a well-known company amongst business owners and not the general public. They have an A++ rating by A.M., and they are one of the best small companies in the United States. Philadelphia offers all the basic coverages offered by all insurance companies, but they have a few additional unique coverages:
Lessors contingent
Rental packages rates
School bus contractors
Private school bus contractors who service private schools need to ensure that their buses have more than enough coverage to care for their precious passengers. Not all insurers extend coverages for private school buses, but PHLY can.
General Commercial Auto Coverages
Throughout the article, we mentioned different coverages that are common amongst all insurance companies. Those coverages were collision, comprehensive, rental coverage, and more. Let's break down what each of those coverages are and how they work.
Collision Coverage
Collision coverage protects your business vehicle in the event that you or your driver collides with another object. The other object can be a wall, another car, a pedestrian, or another object on the road.
Collision coverage is first-party coverage, which means it covers your vehicle only. You will have to pay a deductible if you use this coverage. Most policies have collision deductibles of $500 and higher. This means if you have $1,000 worth of damages, you will pay $500, and the insurance company will pay the other $500.
Comprehensive Coverage
Comprehensive covers damages caused to your vehicle that are not considered a collision. For example, comprehensive covers any flood, theft, vandalism, hail, or fire damages.
Anything coded as an "Act of God" falls under comprehensive coverage. Hitting an animal is also considered an "Act of God" even though your vehicle collides with the animal. Just like collision coverage, there is a deductible that you must pay to repair the car.
Personal Injury Protection
Personal Injury Protection, also known as PIP, covers you or your drivers if they sustain injuries. If your driver is on the job driving your vehicle or is a passenger in the car when they get into an accident and sustains injuries, they can use this coverage to take care of their injuries.
Medical Payments
Medical payments, also known as MedPay, is very similar to personal injury protection coverage, but it is not available in all states. Depending on where you live, MedPay may be the preferred option, whereas, in other areas, only PIP is covered. MedPay covers any medical bills you or your drivers have from auto-related accidents.
Bodily Injury Coverage
Bodily injury coverage, also known as BI, is liability coverage that protects other people. If your driver were to get into an accident and hurt the person they hit, your bodily injury coverage would cover the other driver's injuries.
This coverage only applies if your driver is found at fault for the incident. Because this is liability coverage, you won't have to pay a deductible. Instead, your commercial auto insurance will pay out for the other driver's injuries out of your policy limit.
Property Damage Coverage
Property damage coverage, also known as PD, is liability coverage. If your driver is found at fault for damaging someone's vehicle or other property, this coverage will pay for those damages. Just like bodily injury, there is no deductible that you have to pay. Instead, your auto insurer will pay out for their damages on your behalf.
Additional Note about BI and PD
It is important to note that bodily injury and property damage come with an additional protection layer. In the event that the other party presents you with a lawsuit for injuries, your commercial auto insurance company can provide you with legal counsel. They can negotiate a settlement with the other party on your behalf, so you won't have to.
Rental Reimbursement
Rental reimbursement is coverage that provides you with a rental vehicle while your vehicle is in the body shop for accident-related repairs. If your car is just out of commission for a moment due to an oil change or a repair not related to an auto accident, you cannot use this coverage.
It is explicitly used for auto-related accidents only. Some carriers authorize a rental on your behalf, whereas other companies require you to pay out for the rental first. If your company's policy claims the latter, you will just need to submit your receipt at the end of your rental.
Purchase Your Commercial Policy with Ease
Now that you are more aware of the ten top commercial auto insurers, it's time to sign up for the best policy for you. As a business owner, you have several different things you must balance. The last thing you want to think about is dealing with your commercial auto policy.
Regardless if you decide to partner with Progressive or State Farm, you will want to make sure you pick the company that can cater to your business. We recommend reading our article, How to Shop for auto Insurance. If you found our article "Best Insurance Companies for Business Vehicles" helpful and want to learn more about business write-offs and how you can save on your commercial auto policy, check out our blog today!
Learn More
Benefits of Buying a High-Profile Vehicle for Your Business
Can You Have Multiple Car Loans?