Did you know that your vehicle's Gross Vehicle Weight Rating (GVWR) affects how much weight you can and should put on your truck or trailer?
Knowing your truck's gross vehicle weight rating (GVWR) is extremely important if you plan to use it to transport heavy loads. Every vehicle's GVWR bases itself on the idea of safety. If you overload a truck, it can cause several problems.
Think of the GVWR of your vehicle as to the vehicle's weight limit, which the automobile manufacturer sets.
Below, we'll talk about your vehicle's GVWR, when you need to use it, and why it's essential to ensure safe driving quality.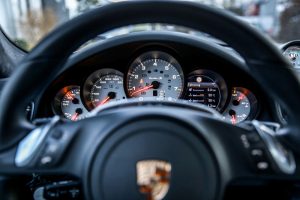 What Is Gross Vehicle Weight Rating and Why Does It Matter?
The gross vehicle weight rating includes the base curb weight of the vehicle and the weight of any additional accessories, cargo, and passengers. You never should go over the GVWR of a vehicle.
When it comes to vehicles, GVWR is all about keeping people safe. However, several issues may arise if you overburden a truck: It is possible that the brakes may not be strong enough to slow or stop the vehicle.
The suspension parts may become ineffectual or even break
Overloaded tires produce more heat, which makes them more prone to blowouts
To be clear, the GVW does not reflect the actual vehicle weight. GVW relates to the natural weight of a vehicle.
The Different GVWR Classes on the Scale
On the Gross Vehicle Weight Rating Scale, there are three different truck classes, spanning from light duty to heavy duty:
Trucks classified as light-duty have a gross vehicle weight rating of less than 10,000 pounds
Trucks classified as medium-duty have a gross vehicle weight rating anywhere between 10,001 and 26,000 pounds
Trucks classified as heavy-duty have a gross vehicle weight rating of more than 26,001 pounds.
Class 1 contains midsize pickups, while Class 2 contains full-size pickups, which are typically divided into two subsections:
Class 2A comprises full-size pickups with a capacity of half a ton, while Class 2B is for larger vehicles with a capacity of three-quarters of a ton. For example, the 2022 Ford Super's gross Vehicle Weight ranges from 10,000 to 14,000 pounds and falls in the medium-duty GVWR class.
The classification of heavy-duty trucks is for commercial trucks like fire trucks, dump trucks, and sleeper cabs.
GVW vs. Curb Weight
Is there a big difference between the gross vehicle weight and the curb weight? First, you calculate the two different weights; one includes your cargo, and the other does not. Curb weight is the weight of your parked vehicle minus cargo and occupants.
Curb weight includes the weight of your vehicle's original equipment and luxuries, but not the weight of any other goods or passengers. In contrast, gross vehicle weight consists of the extra weight of passengers and cargo.
A good grasp of gross vehicle weight is critical if you plan to move or tow a lot of weight with your truck. To determine a vehicle's weight limit, you must compare the gross vehicle weight to the curb weight.
How Much Cargo Can I Carry?
As mentioned earlier, your truck has a "curb weight," which refers to the weight of your truck when it is empty of people and cargo.
For instance, the curb weight of your truck could be 5,500 kilos when it is empty, but the gross vehicle weight rating (GVWR) could be 7,000 kgs. So when you take 7,000 kilos away from 5,500 kilos, you're left with 1,500 kilos. This indicates that you can transport an additional cargo weight of up to 1,500 kilos in your vehicle.
The difference in weight t between your truck's curb weight and GVWR is not always an accurate portrayal of its payload. Therefore, when determining the safest amount of cargo to load on your truck, you must consider more than your curb weight and gross vehicle weight.
You should take into consideration when calculating your truck's maximum towing capacity the following truck accessories:
Truck bed covers
Tool kits
Truck caps
The weight of your cargo
You can check the curb weight of your truck at any weigh station if you are unsure of it. Bring all of the equipment you usually have in your truck when you check your curb weight. This is to ensure you get the most accurate measurements possible.
When you have your curb weight, look on the side of your truck for the gross vehicle weight rating.
Weight Limit Laws
Each state has its own set of laws governing the maximum allowable weight. These provisions include a degree of restriction on the maximum weight allowed by the state. Because of this, states can continue to receive federal funding because they are meeting the requirements set forth by the federal government.
If a state doesn't follow federal requirements, it may lose federal funding. The 50 states each comply in their unique way.
First, many pay careful attention to any changes made to federal laws. Then, when there is a change to the federal law, they demand that they raise their state's weight limits. They do this either by their state senate or their state department.
If a state's current laws do not follow federal law, the state may need to raise the weight limits, and the state can make a request to do so.
The majority of states have two distinct maximum allowable weights. They have a separate one for the interstate highways and one for the state highway. However, although the federal law makes it abundantly clear that the particular limits for interstates should be stated in the statute, weight-limit laws frequently do not.
The weight limit that is specified in the law is higher than the Federal Limits that are in place for interstate travel in:
The state of Connecticut
The state of Nebraska
The state of Hawaii
Nevada state
New York
New Jersey
Wyoming State
Washington State
Nevertheless, the statutes contain a clause requiring compliance with federal law. By stipulating that federal weight limits will continue to apply to the Interstate system, this clause shields states from the possibility of losing federal funding.
Look here at the state where you intend to truck to learn about its specific requirements. It's your responsibility to learn and adhere to the laws in the areas where you travel and work.
Does Trailer Weight Figure Into GVWR Calculations?
The short answer is 'no.' The total weight of any trailers attached to a vehicle is not included in its GVWR.
The GVM only considers the maximum weight of the vehicle, including all its passengers and any cargo. Additionally, the tongue weight of a trailer is considered part o  a vehicle's total weight when calculating its gross vehicle weight rating (GVWR).
For example, if you own a truck weighing 7,000 lbs, and your GCWR is 15,000 lbs, your trailer should be 8,000 lbs or less.
Your trailer's max weight was calculated by deducting your gross combined weight from your curb weight. (15,000 GCWR minus 7,000 curb weight equals 8,000 for the trailer)
Many trucks can tow much more than their GCWR. The GCWR of your truck is not how much load it can pull but how much load it can pull 'safely.' The heavier the trailer, the more difficult it is to control when braking or turning.
As the weight of your trailer increases, it becomes more challenging to maneuver, and that is when your GCWR kicks in.
What Does the GVWR Mean for You?
If the GVWR of your truck is exceeded, you run the risk of receiving a traffic ticket. However, if you are caught driving with a GVWR higher than it should be, that may be the smallest of your concerns.
If a fatal accident occurs due to your actions, you may be subject to civil and criminal liability, including, in some states, the possibility of being charged with manslaughter. Not to mention that loading too much cargo onto your truck might potentially cause damage to the truck itself, such as breaking the suspension.
There are also specific laws for various GVWRs. For example, if the GVWR of your truck is greater than a certain threshold, you might be required to purchase additional insurance.
You might be required to have a CDL license when operating a commercial vehicle with a GVWR greater than a certain threshold. Because of this, it is essential to be aware of the GVWR that applies to your particular truck.
Rather Be Safe Than Sorry!
Finally, truck owners must ensure that their trucks comply with the laws of all the states they travel to and from. You can ensure compliance by ensuring your truck's weight does not exceed GVWR limitations.
GVWR exists to ensure safe travels on the road while carrying a load and towing a trailer. You have very little to worry about if you understand and adhere to the GVWR of your truck. However, if you bypass a step and try and guess your truck's max load weight, you could end up with a hefty fine.
If you have enjoyed this article, why not look at others on our page for more tips and advice!