Do immigrants pay taxes in the United States? The answer might surprise you. According to a recent study, many immigrants do indeed pay taxes starting the very first day in the US – even if they are not authorized to work.
So why does this misconception persist? Keep reading our detailed article to find out.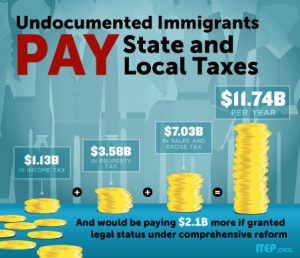 Do Immigrants Pay Taxes In The First 7 Years?
Yes. Immigrants start paying taxes in the USA right away. They pay sales tax on items they purchase at store such as clothing, toys, household goods. They also pay property taxes(included in rent typically), Excise Tax(included in Gas/Fuel Price), and Also income taxes.
Immigrants that come here on Green card gets their social security that they can use to pay Social Security, Medicare and Local taxes.
Immigrants who do not have legal status in the united states can get ITIN(income tax identification number) and pay their income taxes using ITIN.
They can fill out IRS form W7 and apply for their ITIN. They still pay their share of Sales Tax, Excise Tax and Property Tax.
What Taxes Do Immigrants Pay In The USA?
Immigrants in the United States pay various types of taxes, including sales tax, property tax, income tax, Social Security tax, and Medicare tax. Sales tax is paid on purchases made at retail stores, and property tax is paid on homes and other property owned by the taxpayer.
Income tax is paid on wages earned from employment, and Social Security and Medicare taxes are paid on wages and self-employment income.
In addition to these taxes, immigrants may also be required to pay state and local taxes.
The amount of taxes paid by immigrants varies depending on their income level and the state in which they live. However, all immigrants are required to pay taxes in order to support the public services that they rely on, such as roads, schools, and police protection.
In fact, many undocumented immigrants actually pay more in taxes than they would if they were legal residents or citizens.
That's because they often can't take advantage of deductions and other tax breaks that are available to people with proper documentation.
So even though they may not be able to vote or access certain government benefits, immigrants still contribute to the country in a very real way through the taxes they pay.
How are Taxes Paid by Immigrants?
People who immigrate to the United States generally have to pay the same taxes as US citizens. The main types of taxes are Sales Tax, Property Tax, Income Tax, and the Excise Tax on gasoline. Sales taxes are paid on things like clothes, food, and cars.
Immigrants usually have to pay property taxes if they own a home or land. Property taxes help to pay for things like schools and roads. Income taxes are paid on money that you earn from working. The excise tax on gasoline is a tax that is added to the price of gas.
This tax helps to pay for things like road repairs and public transportation. All of these taxes are important in helping to support the government and services that immigrants use.
What are The Benefits of Paying Taxes for Immigrants
Immigrants just like other US resident and citizens enjoy clean environment, safe roads, bridges, and local communities as a result of paying taxes.
Federal and State governments use tax dollars for public benefits such as building road, bridges, parks, schools and libraries.
How Does the US Government Use Tax Money from Immigrants
The US government uses tax money to fund a variety of programs and services that provide health benefits, public schools, libraries, roads and bridges, police and safety. These programs and services are essential to the functioning of our society and the quality of life of our citizens.
Without them, we would not be able to maintain our standard of living or keep our economy strong. The government also uses tax money to fund defense spending, which is necessary to protect our country from foreign threats.
In addition, the government uses tax money to fund research and development initiatives that help us stay at the forefront of technological innovation. All of these things are important factors in ensuring that the US remains a world leader.
Are there any challenges or difficulties with paying taxes as an immigrant in the USA
Taxes can be a complicated and confusing topic for anyone, but immigrants in the United States often face additional challenges when it comes to filing their taxes.
For example, many immigrants are low-income earners and do not have a Social Security number, which can make it difficult to get the tax credits and deductions they are entitled to.
In addition, many immigrants have limited education and may not be aware of the tax laws and regulations that apply to them.
As a result, they may end up paying more in taxes than they should.
While there are some challenges associated with paying taxes as an immigrant in the United States, it is important to remember that everyone is required to pay taxes and there are resources available to help those who are struggling to comply with the tax code.
Examples of How Tax money has Been Used to Help Immigrants in The USA
In the United States, taxes are used to fund a variety of public services that benefit everyone, including immigrants.
Health care, public schools, Public Parks, libraries, Roads and Bridges, and police and safety are just a few examples. Immigrants who pay taxes also help to support these vital services.
In addition, many immigrants become citizens and contribute even more to the tax base.
Despite these contributions, immigrants are often demonized by those who claim they are a drain on resources.
However, the truth is that immigrants play an important role in supporting the economy and contributing to the vibrancy of our communities.
Learn More
Who Pays Income Taxes, and What Are the Benefits?
How Do Illegal Immigrants Get jobs Without a Social Security Number?