Across the year it can be very difficult to save money for families and individuals, especially when it comes to filing and paying the correct amount of tax.
However, there are periods every year where governments have tax holidays, which is where there is a temporary reduction or elimination of tax for a set amount of time.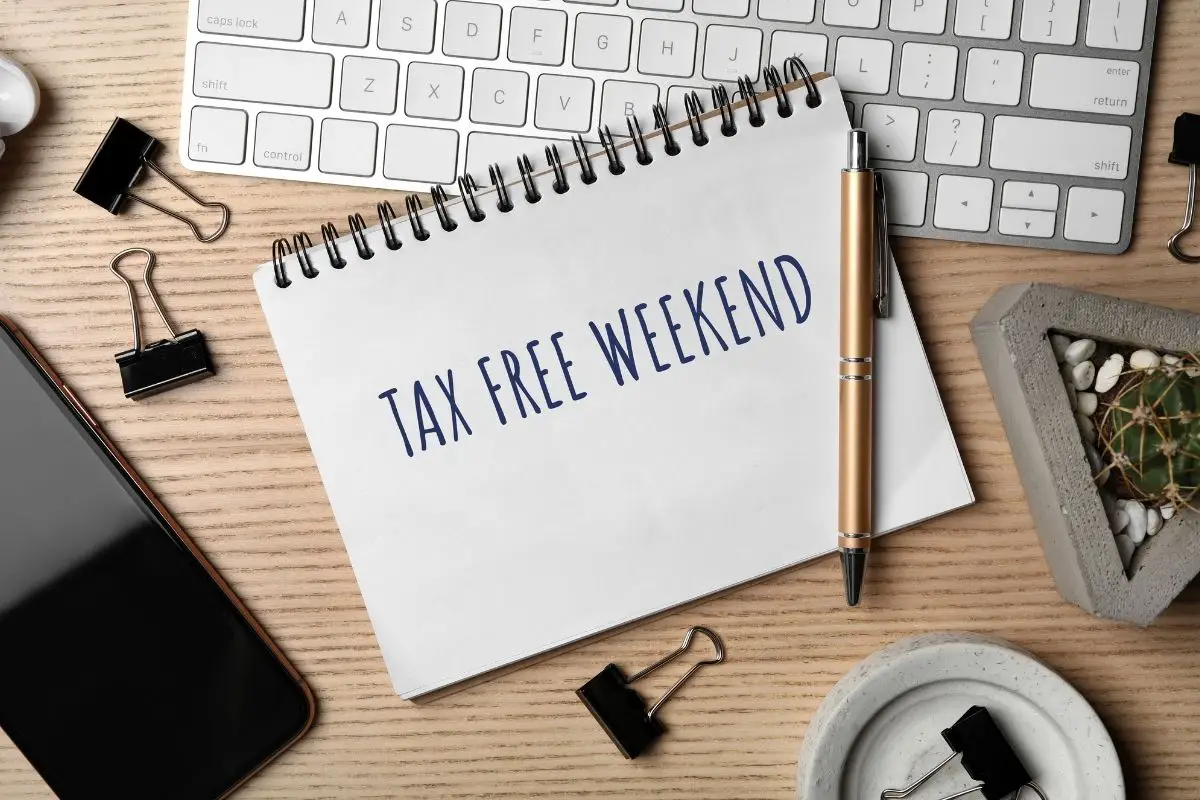 One of these holidays is known as a tax free weekend, which many states have across the US, each picking different weekends to drop their sales tax.
But when is the tax free weekend in Texas?
To put it simply, the Texas tax free weekend in 2022 was between May 28th and 30th.
However, there are certain patterns to predicting when they will be, and we will go into that in our article below.
Additionally, our informative guide will give you advice on what you should look out for when doing your tax free weekend shopping, and the things to be careful of, as well as the kinds of items that will be seeing exemption from sales tax.
What Is A Tax Free Weekend?
A tax free is an allotted weekend where a government does not collect sales tax on certain purchasable items that are under a specific threshold of price.
Tax free weekends are a form of tax holiday, which is periods of time where tax is temporarily reduced or eliminated altogether.
You may wonder what the point of these is, and whether it is simply to ease pressure on taxpayers and make life and spending briefly easier for them.
Though this could be the reason for some, the more likely (and more common) reason is that the government is doing it to create incentives for investment in business.
With a tax free weekend, or any type of tax holiday for that matter, people will go to businesses and stores that they may not usually and buy more things from them than they ever would.
A tax holiday increases spending in certain businesses.
A tax free weekend is also not just a weekend – it usually spans three days.
Sometimes this begins with the Friday and goes through the weekend days, or sometimes it begins with the weekend days and can continue into the Monday.
What Is Included In A Tax Free Weekend?
During a tax free weekend, sales tax is not exempt on everything on sale.
Instead, it tends to be things such as clothing, footwear, backpacks and so on that are the focus of the sales tax exemptions, but computers and furniture are also included with a higher price threshold of under $1500.
On top of that, it is only items in categories like those that fall under a certain price threshold.
For example, if you buy clothes during the tax free weekend and the clothes cost less than $100, then you will get them without having to pay the sales tax.
To put it into perspective, if you spend about $50 then you will be saving yourself 25 percent of that by not having to pay the sales tax.
Furthermore, if you buy an item that costs less than $100 but more than $75, you will have saved yourself 10% by not paying a sales tax.
When Is Tax Free Weekend In Texas?
We already mentioned earlier that the tax free weekend for Texas in 2022 was between May 28th and May 30th, running from a Saturday to a Monday.
If we look at the previous year, 2021, then the tax free weekend was a very different date: August 6th to August 8th, running from a Friday to a Sunday.
For this reason, you may think it difficult to judge when the next tax free weekend next year might be.
However, there are some patterns that you can trace in order to get a good idea in advance.
Both of these tax free weekend dates were placed at periods that are just before the start of a new school term.
The 2021 date is right before the new school year, while the 2022 days in May are during the school summer break, which is also just before the new school year.
This is because one of the key focuses of tax free weekends is for people to buy school supplies: whether it's school clothing and footwear, or backpacks and school supplies, all come under the sales tax exemption when under a certain price threshold.
Therefore, expect the tax free weekend to be in a period before school begins again, allowing parents to make use of the savings and stock up on school supplies.
Things To Keep In Mind
Know What Counts
If you're buying something, make sure that it counts within the tax free bracket. Clothing, school supplies, and backpacks all need to be less than $100 for them to qualify.
On the other hand, larger things like computers and furniture have to be under higher thresholds like $1500.
Think About Shipping
If you're having the item delivered, then you need to think about that cost too. Shipping charges are part of the item's sales price and the total sales price needs to be under the threshold.
For example, a $90 jacket with a $15 delivery charge will equal $105, which means that the whole thing is not exempt from sales tax.
Hold Onto Receipts
We must stress that you can only get no sales tax on one item PER receipt. You won't be able to have the exemption on every item on the receipt.
Be Quick
You won't want to hold off, because the weekend will fly by and other people will get the items you want if you don't get them first.
Final Thoughts
Tax free weekends are great for saving money, but keep the above information in mind!