In the US, the top personal income tax rate is 37%. No matter your tax bracket, however, you can save on annual taxes with tax breaks.
With tax breaks, you can reduce your yearly tax liability. However, you may wonder, "What is a tax break?"
Keep reading to learn more about tax breaks and a few tax break tips.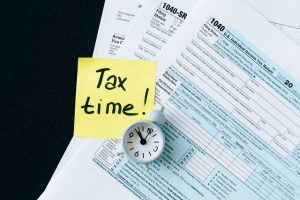 What Is a Tax Break?
You may or may not pay as much tax as the nation's wealthiest taxpayers. Still, a tax break is a way of reducing your total tax liability. Lawmakers create tax breaks for taxpayers.
Often, a tax break will come in the form of a credit or deduction. Alternatively, it might come in the form of shielding certain types of income from your state or federal tax return.
Sometimes, a tax break requires no action on your part. You'll receive it just because you're a United States taxpayer.
Things to Remember About Tax Breaks
Despite troubling times, American incomes are increasing. As a result, you'll most likely owe more in taxes this year.
When it comes to tax breaks, there are a few things you should keep in mind. For instance, a tax deduction reduces the amount of your gross income that's subject to taxes.
A tax credit offsets your tax liability dollar for dollar. Meanwhile, a tax exemption shields a portion of your income from taxation.
Tax Breaks in Action
Each year, American workers earn trillions of dollars for which they must pay taxes. The IRS offers tax breaks for both consumers and corporations. They're a way to help entities reduce their tax liability.
There are three ways most people can save on their taxes. These methods include:
• Credits
• Deductions
• Tax exemptions
Sometimes, the IRS will require you to meet a certain income threshold. If you do, you can then claim credits or deductions to qualify for a tax break. In this way, you can lessen your taxable income.
Why Offer Tax Breaks?
The government views tax breaks as a way to stimulate the economy. In other words, it's a way to encourage people or businesses to invest in growth. The regulations outline how tax breaks work, who can claim them, and how long they last.
A tax break might promote a certain kind of behavior. Legislators will create a tax break when they deem a certain behavior favorable. For example, lawmakers might create a tax break for consumers who get rid of gas-guzzling cars and purchase more modern fuel-efficient ones.
Claiming Tax Deductions for 2021
In general, there are two ways you can claim a tax deduction. You can claim a standardized deduction on your income tax return.
Alternatively, you can claim itemized deductions. However, the IRS doesn't allow you to do both.
A standard deduction is a flat-dollar tax break. In other words, it's a no-questions-asked deduction on your adjusted gross income (AGI). Your filing status changes the amount of the deduction for which you qualify.
Credits vs Deductions
Tax breaks could help you save a lot of money. However, you must know what they are and how to claim them.
With a tax deduction, you can lower your taxable income and reduce your tax liability. When filing your taxes, you'd subtract a tax deduction from your income. This practice makes your taxable income lower.
Meanwhile, a tax credit is a dollar-for-dollar decrease of your tax liability. Some tax credits are even refundable.
In other words, you might owe $250 in taxes but qualify for a $1,000 tax credit. In that case, you'll get a check for $750.
Of course, just about anyone would favor this kind of tax break. However, most tax credits aren't refundable.
Types of Tax Breaks
In brief, a deduction reduces your IRS taxes and lowers your tax bill. A credit directly cuts your tax bill.
Government laws are behind every available tax break. These laws explain how a tax break works. Congress and the president approved every tax break you've ever received.
Suppose you're filing your tax return and encounter a new tax credit, allowing you to reduce your annual tax bill. In that case, you're now fortunate enough to reap the benefits of a new tax law approved by the federal government.
Consumer Tax Credits
Again, a tax credit reduces your tax liability dollar for dollar. It has a greater impact compared to a tax deduction. A tax deduction only reduces how much income you'd assess for taxes.
Conversely, the IRS applies tax credits to the amount of taxes you owe. They'll apply the tax credit after making all deductions from your taxable income.
Suppose you owe $3,000 in federal taxes. You're also eligible for a $1,100 tax credit. Now, you only owe $1,900 after the IRS applies a tax break.
Corporate Tax Credits
The IRS also offers tax breaks to corporations, enabling them to lower their tax bill. In this way, the government helps workers. Corporate tax breaks also help the national economy.
No matter the industry or sector, some businesses qualify for certain tax credits. These credits might include:
• Business tax credits
• Investment credits
• Worker childcare credits
Lawmakers may also create industry-specific tax credits. For example, they might create tax breaks to help agriculture, energy, or mining businesses.
Tax Deductions
A tax deduction is an expense. The IRS lets you deduct some expenses from your gross income. In this way, you can reduce your taxable income.
The government reduces taxable income to give people a tax break. In the end, consumers end up paying less to the government by taking advantage of them.
Suppose a single person in the 22% tax bracket earns $75,000. They'll have a tax bill of $16,500.
However, they may qualify for an $8,000 tax deduction. The tax deduction will reduce their bill to $14,740.
Tax Exemptions
A tax exemption screens part of your income or a type of income from taxation. For example, imagine that you're working in a foreign country. In that case, you might find you're eligible for a Foreign Earned Income Exclusion.
In 2022, the IRS allows you to exclude up to $112,000 with this tax break. Suppose you earned $180,000 in foreign-earned income.
In that case, you'd only pay taxes on the amount of your income that exceeds $112,000. In other words, you'd pay taxes on $68,000 for the year.
Types of Tax Credits
You can also save on taxes by diverting part of your paycheck into a 401(k) plan. In 2021, the 401(k) contribution limit was $19,500. Yet, if you were over 50 at the time, the limit was $26,000 for the year.
In 2022, however, that amount went up to $20,500. Also, the limit went up to $27,000 for individuals who are 50 or older.
Still, there are plenty of more ways for you to receive a tax break. Let's have a look at some of them.
401(k) Contributions Deduction
Usually, an employer sponsors a 401(k) retirement account. However, if you're self-employed, you can open your own 401(k) savings account and bypass paying taxes on the money you contribute.
Adoption Credit
You can deduct up to $14,440 in adoption costs. You can apply this tax break for each child you adopt.
American Opportunity Tax Credit
With the American opportunity tax credit, you can claim the first $2,000 spent on books and school fees. It also covers up to 25% of the next $2,000 you spend on education costs, up to a total of $2,500. However, this tax break does not cover living expenses or transportation.
Charitable Donations Deduction
When you itemize your deductions, you can subtract the value of your charitable gifts of cash or property. In 2022, single-filers can deduct up to $300, and joint-filing married couples can deduct up to $600.
As an aside, it's important not to confuse this tax break with the gift tax rule.
Child and Dependent Care Tax Credit
The Child And Dependent Care Tax Credit encompasses part of daycare and similar costs for children under 13. It also applies to the care of a spouse or parent who's unable to care for themselves. The IRS might also allow you to claim this tax break for another type of dependent when placing them in care allows you to work.
In 2022, you can claim up to 50% of $8,000 in expenses for a dependent. You can claim up to 50% of $16,000 for two or more dependents.
Child Tax Credit
With the child tax credit, you could qualify for a refund of up to $3,600 per year. The government has already issued half of this payment in advance to some families.
Deduction for State and Local Taxes
If you're a single-filer, you can deduct up to $10,000 for state and local taxes and up to $5,000 if you're married and filing separately. You can use this tax break for a combination of property taxes, state or local taxes, or sales taxes.
Earned Income Tax Credit
You could receive between $1,502 and $6,728 for the Earned Income Tax Credit in 2022. Your benefit will vary based on your marital status and the number of children. If you make less than $57,000 per year, you may want to look into the Earned Income Tax Credit.
Educator Expenses Deduction
If you're an eligible teacher or another kind of educator, you could qualify for the Educator Expenses Deduction. If so, you can deduct funds spent on classroom supplies.
Gambling Loss Deduction
You can also deduct any gambling losses up to the dollar amount of your winnings. For instance, you can take advantage of this deduction just for buying $100 worth of lottery tickets.
If you win, however, you must report your winnings, and you can then report your $100 loss. In other words, the IRS doesn't allow you to deduct more than what you win.
Health Savings Account Contributions Deduction
If you have a health savings account, your contributions are tax-deductible. Also, your withdrawals aren't subject to taxation. However, you must use the funds for qualified medical expenses.
In the 2021 tax year, the individual coverage contribution limit was $3,600. This limit applied if you had high-deductible health coverage for only yourself.
For a family, however, the contribution limit was $7,200. If you were over the age of 55, however, the IRS allowed you to contribute an extra $1,000 in 2021.
In 2022, the IRS has increased the coverage limit to $3,650. They've also increased the family limit to $7,300.
Home Office Deduction
You may use part of your home regularly and exclusively for business. If so, you can claim the home office deduction.
The IRS will allow you to write off various business-related costs. These costs might include rent, utilities, and real estate taxes. They could also include repairs, maintenance, and other expenses.
By the way, if you own property, you'll most certainly want to learn more about real estate capital gains taxes.
IRA Contributions Deduction
In some cases, you can deduct your contributions to a traditional IRA. How much you can deduct, however, depends on whether you or your spouse has retirement plan coverage at work. It also varies based on how much you earn each year.
Lifetime Learning Credit
The IRS allows you to claim 20% of the first $10,000 you pay toward school fees and tuition. You can claim up to a maximum of $2,000.
Like the American opportunity tax credit, this tax break doesn't apply to transportation or living expenses. However, you can use it for books or supplies needed for schoolwork.
Medical Expenses Deduction
You can use the medical expense deduction for qualified unreimbursed medical expenses. However, these expenses must exceed 7.5% of your adjusted gross income for the tax year.
Mortgage Interest Deduction
Lawmakers created the mortgage interest deduction to make homeownership more affordable. This deduction reduces the federal income tax owed by reducing your taxable income by the amount of mortgage interest you've paid.
Recovery Rebate Credit
The IRS says many people were eligible for a third economic impact payment. The agency sent the checks out between March and December of 2021.
You may believe that you qualified for a payment. However, you didn't receive it. In that case, it's possible that you can claim that payment with a recovery rebate credit.
Residential Energy Credit
If you've installed solar energy in your home, you can receive up to a 26% residential energy credit. The credit covers solar energy systems, solar water heaters, and solar panels.
Saver's Credit
You can receive a saver's credit of between 10% to 50% of up to $2,000 for your contributions to a retirement plan. These plans may include an IRA, 401(k), 403B, or other retirement plans.
Also, you could receive up to $4,000 with this tax break if you file your taxes jointly. The credit you receive will vary based on your filing status and income.
Self-Employment Expenses Deduction
There are many valuable self-employment deductions. These deductions are available for contractors, freelancers, and other self-employed individuals.
Student Loan Interest Deduction
With the student loan interest deduction, you can deduct up to $2,500 from your taxable income. You'd deduct the amount of interest you paid on your student loans to take advantage of this tax break.
Learn More About Managing Your Taxes
Now you know the answer to the question, "What is a tax break?" Still, there's so much more you can learn about making the most of your money during tax time. If you want to learn more about taxes, please feel free to review our guide about the step-up basis rule to find out about another way to reduce your annual tax liability.
Additional Articles
Foreign Tax Credits: A Complete Guide
What Is the Savers Credit and How Does It Work?
What Is the Standard Deduction? Everything You Need to Know
Foreign Tax Credits: A Complete Guide
Are Medical Expenses Tax Deductible?