Toyota Tundra is known for its reliability and longevity. People who love Toyota Tundra are die hard fans and wouldn't replace this vehicle with anything else or any other vehicle. Some buy it as its their love of this vehicle & passion and many buy it because they can not only use this vehicle for conducting their business but also save thousands when it comes down to paying their tax bill. In this article we will be discussing Toyota Tundra Tax Write Off 2021-2022.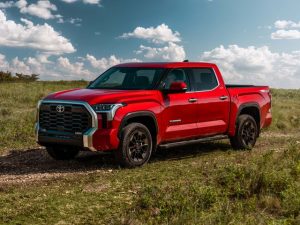 Toyota Tundra Tax Write Off:
In order to write off a Vehicle it need to meet many requirements for you to be able to take it as a Tax Write off. These requirements include but are not limited to
Business Percent Use
IRS requires you to keep track of your miles so you can determine if you are using your business vehicle 70% for business or 90% for your business. You are only allowed to write off the amount that is used for business and not for personal.
Ordinary and Necessary
In order for the Toyota Tundra Tax Write off to be allowed, it need to be ordinary and necessary in the field of work you are in. For example in construction, you will need pickup to haul materials. That will be considered Ordinary and Necessary.
Furthermore, If you are a Plumber or a General Contractor, then Toyota Tundra may be a tax write off as your Customers Expect you bring materials such as pipes, wood and boards from Home Depot or Lowes.
Gross Vehicle Weight
If the Vehicle is 6000 pounds or more, then you are allowed to write off full value of the vehicle as long as its 100% business use and placed in the service in the year you are doing the tax write off for.
If any vehicle is less than 6,000 pounds max you can do in 2022, is $18000 first year and remaining over 5 year period.
Toyota Tundra Lease Vs Purchase
Lease Example & Calculation
If you lease a vehicle, you get to write off the actual amounts you paid for example if you lease Toyota Tundra ( 36 Month Lease) and Put $18,000 Down Payment(Lease Buy Down) and  $1000 Per month for the entire year. Then you write off the lease as following:
Lease Deposit $18000 Divided 0by Lease Term 36 Months So you will get $6,000
Yearly Lease Payment: 1000 Times 12 Months is $12,000
Total Write off $6,000 Plus $12,000= $18,000
Purchase Example & Calculations: 
If you purchase the Toyota Tundra for $70,000 and put down $20,000 and finance the remaining over 60 months the calculations will work the following way assuming 100% business use:
Since Toyota Tundra qualify for vehicle equal or more than 6000 pounds, you can either deduct the entire $70,000 in the first year(if you have enough profit) or deduct a portion( Example $30,000) of it and spread the remaining($40,000) over 5 years.
You can take Standard mileage deduction of 56 cents( in 2021) a mile but we do not recommend that as the 1actual deduction in this case will significantly more than Standard mileage deduction.
Toyota Tundra Tax Write off Weight
2022 Toyota Tundra Gross Vehicle Weight of 7,210 to 7,780 lbs. Toyota Tundra Qualifies for the 6000 Pound or more requirement(Per IRS) and using a combination of Section 179 and Bonus Depreciation.
Toyota Tundra Tax Write off California
California has very specific rules pertaining to depreciation and limits any Section 179 to $25,000 Maximum per year. So for example, if you purchase a vehicle for $125,000,
you can write off $25, 000 as Section 179 in first year and remaining amount of $100,000 in this example has to be spread over 5 year period.
While IRS allows Bonus Depreciation, California doesn't allow Bonus depreciation and the entire amount is added back to your State return where it is taxed.
Section 179 Deduction
Internal Revenue Code, Section 179 Deduction allows you to expense up to 25,000 on Vehicles(One year) that are between 6000 Pounds and 14,000 Pounds or More in the year they are placed in service.
If you are looking to write off the entire purchase price of Toyota Tundra, look into Bonus depreciation rules that were passed under TCJA. We have more details below.
To learn more about Section 179 See IRS Section 179 Details here
Bonus Depreciation
Bonus Depreciation  has been significantly improved by the Tax Cuts and Jobs Act.
Under new TCJA, Bonus Depreciation allows you to deduct a specified percentage of the cost of assets in the year they are placed in service.
This deduction allows you to take your profit to negative as compared to Section 179 which only allows you to break even or make your profit zero.
For SUV's such as Toyota Tundra that are 6000 pounds or more, can be deducted 100% in the year purchased and placed in service.
Tip: Under Bonus Depreciation rules, you can even purchase a Used Toyota Tundra and use Bonus Depreciation as well. 
Learn More>>>
Cadillac Escalade Tax Write Off 2021-2022
Porsche Cayenne Tax Write Off 2021-2022
Tesla Model X Tax Write Off 2021-2022
Mercedes G Wagon Tax Write Off 2021-2022
Ford F150 Tax Write Off 2021-2022
Section 179 Deduction Vehicle List 2021-2022
What Small Business Expenses are Tax Deductible
How Often Do Businesses pay taxes?