In the United States, employers are required to pay their employees time and a half for any hours worked over 40 in a week. But is Overtime taxed more? The answer isn't so simple. Let's take a look at how overtime is taxed in the US, and how that compares to other countries around the world.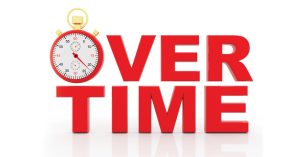 Is Overtime Taxed More?
No. Overtime is not taxed more. Your taxes and tax withholding on your Paychecks are calculated using IRS Tables.
These tables have income and how much tax should be withheld form the paycheck. So if you include the overtime in the paycheck that amount seems much larger as compared to if you didn't work any overtime.
When you file year end taxes, your tax is calculated based on your W2 income which includes your overtime as well as regular time. So the tax is charged on total income and not separately on each type of income.
What is Overtime?
If you work in the United States, you're probably familiar with the concept of overtime. overtime is simply defined as working more than 40 hours in a given week. For hourly workers, this means that they will receive time and a half for any hours worked over 40.
For salaried workers, it's a bit more complicated. Some salaried workers are exempt from overtime, which means they are not entitled to time and a half.
Exempt workers include those in executive, administrative, or professional positions. Other workers may be nonexempt, which means they are entitled to time and a half for any overtime hours worked.
Overtime laws vary from state to state, so it's important to check the laws in your particular jurisdiction. In general, however, most workers are entitled to receive overtime pay if they work more than 40 hours in a week.
Is Working Overtime Worth It?
Working overtime can be a great way to boost your income and reach your financial goals faster.
Whether you're saving for a down payment on a house or trying to pay off debt, an extra few hours at work can make a big difference.
Of course, working overtime isn't always worth it. If your job is physically demanding or you have young children at home, the extra hours may not be worth the mental and physical toll.
And if your overtime pay isn't very high, you may not be earning enough to make it worth your while.
Ultimately, whether or not working overtime is worth it depends on your individual situation. If you're able to manage the extra hours without too much stress, it can be a great way to improve your financial picture.
Final Thoughts
Have you ever wondered if overtime is taxed more? Hopefully our article helped you answer your question regarding the ins and outs of overtime tax.  Keep reading our blogs to learn everything you need to know about Income tax
Learn More
Payroll Taxes for Employee and Employer