Are you tired of living with your parents? Are you itching to get out on your own, but don't know how to afford it? We have compiled a list of best tips on How to Move Out of your parents home with No Money.
Please Note that these are Not Easy tips, but they Do Work.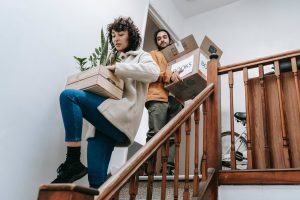 Key Tips to Move Out of Your Parents Home
It's never easy to leave your parent's home, but if you are planning on moving out soon or need some advice for what steps should be taken first then read below.
This way you don't end up coming back again if things don't work out.
We recommend doing this step by step from finding a job to finding an apartment or roommates.
It will help make the process go as smoothly possible!
Find a Job
So you've ready to move out. But how do you find your first job?
It can be a daunting task, but there are a few things you can do to increase your chances of success.
First, take some time to reassess your skills and experience. What are your strengths? What kind of work do you enjoy? Once you have a good understanding of your skills and interests, you can start to look for job openings that match up.
Another important step is networking. Get in touch with friends, family, and any other contacts you might have in the working world.
Ask if they know of any open positions, or if they could put in a good word for you with their connections.
Check jobs online on websites such as www.indeed.com
Finally, don't be afraid to sell yourself. In an interview, be confident and articulate when describing why you would be the perfect candidate for the job. Remember, landing your first job is all about making a great impression.
Find a Low-Cost Place for Rent(Apartment)
The challenge of finding a low-cost place for rent can be daunting, but there are ways to make the process easier.
There are a few things to keep in mind when searching for a low-cost place for rent.
The first is to start your search early while living with your parents. The sooner you start looking, the more likely you are to find a great deal. Ask your friends, if they need a roommates as it can make your housing much less costly on monthly basis.
Another tip is to be flexible with your location and city. Don't limit yourself to just one area – instead, search in multiple neighborhoods to find the best prices. Ideally the apartment/housing should be near your school, and your job site.
It matter as you will spend quite a bit of your money on bills such as insurance, transportation and apartment costs.
Finally, don't be afraid to negotiate. If you find a place you like but the rent is a bit high, talk to the landlord and see if they're willing to budge on the price.
By following these tips, you'll be sure to find a low-cost place for rent in no time.
Create a Moving Checklist
Moving is not easy or cheap. Its important that you make a moving checklist that includes items such as:
Furniture
Utensils
Clothing & other belongings.
Supplies
Personal Items
It's exhausting preparing to move, but having a list will help you prepare. We recommend you start with packing items you don't use all the time and label each box so it is easier to find items later.
Make a Personal Budget
If you want to make sure you don't have any financial problems, you want to make a personal budget for yourself that includes all your expenses such as rent, utilities, food, groceries, medical insurance, and so on.
Living on your own is very exciting but scary at the same time. It is very different than living with your parents.
This unfortunate reality can sound pretty daunting at first glance – especially if we're used to having everything done for us by our families who always seem happy enough with what they get in return.
But don't lose hope! You can learn to create a budget and stick with it.
Build a 3 Month Emergency Fund
Most financial experts recommend having an emergency reserve/fund that can cover 3-6 months of living expenses. If you are moving out, you need to make sure this is done before you do anything else.
The idea is that if you suddenly lose your income, you'll have a cushion to fall back on while you look for a new job or figure out another source of income.
Emergency funds are also useful for expected expenses such as rent, insurance and utilities as well as unexpected expenses, like car repairs or medical bills.
If you don't have an emergency fund, you may be forced to rely on credit cards or loans, which can put you in a difficult financial situation.
Building up an emergency fund can be tricky, but there are a few simple steps you can take to get started.
First, set up dedicated savings account for your emergency fund.
Then, start setting aside a few dollars each week or month until you reach your goal.
Emergency funds should be easily accessible, so avoid investing the money in stocks or other long-term investments.
Finally, make sure to replenish your fund as needed so that it's always there when you need it.
Arrange for a Loan
If you have good relationship with your parents, then ask for a Loan from them or any other relatives or friends.
If you talk to your grandparents or someone close to you, then maybe you will be able to secure a loan.
You can work hard at your job and pay them back from your pay or savings over time.
Live Below Your Means
If you're looking to move out saving money has to be the top priority. To save money, one of the best things you can do is learn to live below your means.
That doesn't mean you have to live a life of deprivation – but it does mean making smart choices about your spending.
One key way to do this is to avoid lifestyle inflation. As you start working and your income goes up, resist the urge to immediately upgrade your lifestyle.
Instead, stick to the same level of spending, and funnel the extra money into savings or investments.
Another way to live below your means is to be mindful of your expenses. Take a close look at where you're spending your money, and see if there are any areas where you can cut back.
Finally, remember that living below your means doesn't have to be permanent. Once you've reached your financial goals, you can relax your belt a little and enjoy the fruits of your labor.
Start Saving & Investing
It is very important that as soon as you have enough money and you are ready, you start saving and investing your money. You don't want to go through a difficult face in life and end up at parents house.
You don't want to spend money on unnecessary items such a expensive clothing, furniture or use credit cards for eating out.
You want to share furniture with your roommates and stay on track to start saving 100 to 200 dollars a month.
Even though this is a small amount for some people, it matter that you get your finances under control.
Make Sure You're Moving out of Your Parents Home For The Right Reasons
Moving from my parents home is a major decision, whatever the destination.
Before making this life-changing decision, ask yourself whether you are moving because of emotional or economical reasons.
Moving will definitely help you have more personal space but it will increase your expenses dramatically.
if you have made your Decision and you are ready to go Lets discuss Steps to Move our of your parents house with No Money.
Frequently Asked Questions(FAQs)
How much money should you have before moving out of your parents?
Start with a minimum of $500 to $3,000 emergency money.
Eventually you should spend about 3 to 6 months of living expenses to cover unexpected expenses like medical expenses, insurance deductibles, and vacation.
Is it possible to move out with no money?
If you have a relative or friend who is willing to help you for short term, it may be possible to move out with No Money.
We do not recommend this as it can cause serious financial issues.
What are the benefits of Moving out of your parents home?
The main benefit of moving out is that you get your own space.
This can be nice because it feels more private and less disruptions from other people, but there are also tradeoffs like having less accessibility or control over what's happening in the house at all times which might make living with family again someday easier for when they want/need help managing some job responsibilities!
What are the disadvantages of Moving out of your parents with no money?
Moving out of your parent's home can be an exciting prospect, but it also comes with some disadvantages. A lot is riding on this decision so you should do plenty research and think about it before making any decisions!
One of the major disadvantages is that you will have to find a place for yourself, this can be difficult.
It may also take some time for you to build your credit or get an apartment in your name. You may or may not have a job that can pay for rent, utilities, insurance, vehicle expenses and so on.
Moving is not easy. you have to pack everything, change your address and learn to live on your own or share room with roommates. We recommend staying with someone temporarily before you make this major decision.
before you start thinking about How to move out of your parents home with no money, we recommend you give it a serious thought. We recommend reading, How much Money you should have saved by 21, before you move out and start thinking about building your savings to an amount you can be comfortable with.
Final Thoughts
So, Now that you read our tips on how to move out of your parents home with no money?  It important that you know that It can be done.
You just need to get creative with your finances and make a budget that you can stick to.
We've outlined everything step by step for moving out without breaking the bank, so continue reading our blog for more helpful advice.
And good luck again!
Learn More
Continue Learning about personal finances by reading our articles on Tax, Personal Finances and Small Business.