So, you're considering signing up for DoorDash and are curious whether or not it's worth it after taxes.
That's definitely a valid question! In this post, we'll break down what your earnings potential looks like as a Dasher and how much of that will end up in your pocket after Uncle Sam takes his share.
Spoiler alert: it's still worth it! Read on to find out why.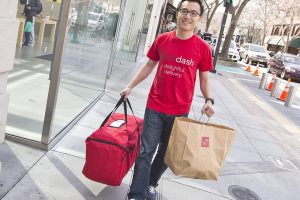 Is Doordash Worth it After Taxes?
In order to evaluate if Doordash is worth it after Taxes, we need to evaluate the tax calculations and numbers in details.
Lets assume you work for Doordash for 40 Hours a week.
In that case your gross income will be about 40  Hours Times $25 per hour average = $1,000 Gross Per Week.
That comes up to $4,000 Per Month
You will need to subtract your fuel, car payment and repair maintenance of your vehicle.
Which will be about $1000 Per Month. Your Net income will be $3000 Per Month which will come down to $18.75 Per Hour.
You also need to pay Self Employment Tax of 15.3% which will be $459 Per Month
Netting you $2541 Per Month.
You need to also pay income tax on $3000 Per Month which will be same, if you were to do a regular Job. Hence,
Based on Detailed Analysis, It is worth working for Doordash if you are making less than $17 Dollars an hour at  your current job.
Benefits of Working for Doordash
Flexibility
If you are looking for flexibility over income. So if you need to take care of young children and need to work 4 hours in the morning and 4 hours in the evening, then Doordash may be worth it for you as compared to
Tip Income
You will receive Tip Income when working for Doordash. That can help increase your income.
Tax Deductions
As a freelancer, you are allowed to get tax deductions such as vehicle expenses, phone, gas, repairs, DMV fee and so on. This help reduce your income.
Final Thoughts
Conclusion paragraph: All in all, it looks like DoorDash may be worth it after taxes.
You'll want to crunch your own numbers and see what works best for you, but with the right planning, DoorDash can certainly help pad your wallet. Have you given DoorDash a try?
Learn More