According to the National Funeral Directors Association, in 2021, the average cost of a funeral with a viewing and burial was about $7,900. Cremation costs were slightly lower at an average of nearly $7,000.
With burial costs being a significant expense, it's common to wonder if funeral expenses are tax-deductible.
Unfortunately, individual taxpayers cannot claim funeral expenses under the medical expenses deductible. Further, according to other tax regulations, the IRS says it's unlikely that individuals will qualify for a funeral expenses deduction.
However, sometimes an estate can deduct these and other funeral expenses.
So keep reading to learn more about estate planning, funerals, and taxes.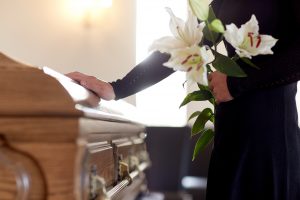 What Is an Estate?
An estate is the total net worth of an individual. It includes:
Cash
Collectibles
Financial securities
Furnishings
Land
Possessions
Real Estate
Other assets
In legal terms, your estate is your total assets minus your liabilities.
Who Is the Executor of an Estate?
An executor is a person who will handle your estate after your death. When you write a will, you name someone to serve as your executor.
This is one of the reasons why it's essential to prepare a will before your death.
The executor gathers and distributes your assets according to your will. They also pay debts and taxes.
If you don't name an executor, the probate court will appoint an administrator of your estate. Each state has its own laws on the order of priority when choosing an administrator.
However, family members can fight in court over who the administrator should be. It's not uncommon for siblings to fight each other or for a child to fight an ailing parent for control of the estate.
Naming an executor guarantees your will is carried out and makes paying for the funeral costs much simpler for your family.
Estates That Can Deduct Funeral Expenses
If your estate is worth more than $12,060,000, your executor can claim qualified deductions to lessen the estate tax. Moreover, your asset will be subject to federal estate and inheritance taxes if it exceeds this amount.
The top rate for federal estate tax is 40%, so the more your executor can deduct from your estate, the less taxable income there will be. This means your beneficiaries can access more money from your estate.
Some states have their own estate and inheritance taxes too. Thus, deductions will significantly lower your tax bill.
However, not all burial costs are tax-deductible. Take a look.
Tax-Deductible Burial Costs
As long as they are reasonable expenses, the following expenses qualify for a tax deduction:
Burial
Burial plot
Catering services
Casket
Embalming or cremation
Floral services
Funeral home facility costs
Funeral home director fees
Funeral service arrangement costs
Grave markers (i.e., gravestone or tombstone)
Green burial services
Hearse or limousine service
Religious leader service fees (i.e., minister, rabbi, priest, etc.)
Transportation costs for the deceased and immediate family
Urn
However, for these expenses to qualify, your executor must pay these costs out of your estate and not with personal funds. Family members also should not pay for these expenses from their own pocket.
Your executor must keep copies of the receipts for all the costs. The receipts provide a clear record of how much the funeral cost and will help them to fill out estate tax forms correctly.
In the event of an IRS audit, your executor will need to supply the receipts to the IRS for cross-referencing.
Non-Deductible Burial Costs
Naturally, there are some costs that the tax deduction doesn't include. The first is travel expenses for funeral guests who aren't immediate family members.
The second is the costs that any insurance policy paid to cover expenses. This includes final expense insurance and life insurance.
Additionally, the IRS may deny some of the write-offs if the funeral costs were significantly higher than average in your area. The IRS will consider the size of the estate to determine what is reasonable and necessary.
Claiming Funeral Expenses
To claim funeral costs, your executor must complete Schedule J of Form 706. On the form, they must itemize the expenses and disclose what each expenditure was for.
If the estate was reimbursed for funeral expenses, they must deduct the reimbursement from the total tax deduction. This includes:
Social Security
Veterans Affairs
Final expense insurance
Any other sources
Because funerals can be expensive, Social Security and the Department of Veterans Affairs provide some benefits to help lower the costs. These benefits are not available to everyone.
Breakdown of Funeral Expenses
It's not uncommon for a funeral to cost more than $10,000, and if your estate won't meet the federal estate tax exemption limit, you may want to plan for your funeral expenses before you pass.
It will lessen the stress on your family and allow you to assemble the preparations you want.
The last you need is your wife and sister arguing over whether to bury or cremate your body. Preparing for your death is the best way to ensure all costs are accounted for and your wishes are met.
Let's examine what the total burial cost (or cremation cost) includes so you know what you need to consider.
Service Fees
If you have a viewing or ceremony, the funeral home will require you to pay several service fees. First, there's the general service fee, but additional fees for viewings and a ceremony. These service fees combined are usually a few thousand dollars.
If you choose a viewing, you'll probably need embalming to preserve your body. Embalming often costs $500-$700. You will also need cosmetic services, which can cost a few hundred dollars.
Burial vs. Cremation
Burials are more expensive than cremations for a few reasons.
The cremation process only costs several hundred dollars. So those who choose cremation without a viewing or ceremony will spend thousands less than having a burial service, which often includes a ceremony and hearse to the burial site. A hearse will add another several hundred dollars.
Further, burials require buying a casket and a larger plot at the cemetery. Although the average cost of a burial plot for a coffin is about $1,000-$2,000, the price can quickly get into the tens of thousands of dollars depending on location and your specifications.
Don't forget that this doesn't include the cost of a gravestone, tombstone, or another marking. Those costs can exceed $5,000.
Additionally, a casket can cost anywhere from $1,000 to more than $10,000!
The casket material you choose will be a significant price factor. Metal caskets are often less expensive than wood caskets. But you'll pay a hefty price if you choose a metal like stainless steel or bronze.
On the other hand, an urn can cost as little as $50, with the most extravagant costing several thousand dollars. It's still far less expensive than a casket.
Consider a Casket Rental
Casket rentals are a great way save money. Caskets have a removable interior, so the body never touches the inside of the coffin. You can remove the wooden box after the service for burial or cremation.
If you want a viewing but not a burial ceremony, renting a casketing is best. You can save thousands! It's also a great choice for those who choose cremation.
Other Expenses
Traditionally, funerals have flower decorations and a wreath on the casket. Often, the deceased's family will have a few of their own arrangements and leave space for family and friends to send others.
Many families also like to have a ceremony with food and drinks. This will be an additional expense to consider if you want to cater.
Estate Planning
Working with a financial or estate planner is the best way to prepare for your eventual passing. Your advisor can help you draft a will, name an executor, and set aside money to lay you to rest.
You don't need to be a certain age to start getting your affairs in order, so start as early as you can. Of course, no one expects to die tomorrow, but sometimes it happens, and it's better to be prepared.
Plus, you can always make changes to your wishes as you age.
Regardless of when you pass, your estate planner will help your executor carry out your will and correctly file the estate tax paperwork. So even when you're gone, you'll still be helping to ease the pain and suffering of your loved ones.
An advisor can also help you choose a life insurance policy that covers your needs. Often, a life insurance policy covers more than the burial costs. It may also cover:
College tuition costs for your children or grandchildren
The rest of your mortgage
Any other household debt
It never hurts to consider which policies might serve you and your family best, especially if you die earlier than expected.
It's Time to Get Your Affairs in Order
Even though individuals usually cannot deduct funeral expenses and burial costs from their taxes, a funeral is an expense you can plan for. Get your will in order so your executor can appropriately handle your affairs when you're gone.
Now that you learned more about "Are Funeral Expenses Tax Deductible," If you want to learn more about your tax responsibilities with the IRS, check out the Taxes section of our blog. It's full of helpful information to help with tax planning and more.
Learn More